U.S. Government Hands Over Classroom Building in San Isidro to Ministry of Education
USA/August 02, 2020/Source: https://www.sanpedrosun.com/
The U.S. Embassy and the Ministry of Education held a ceremony to announce the handover to the Ministry of Education of a classroom building constructed through the U.S. Southern Command's Humanitarian Assistance Program in San Isidro Village in Toledo District. The handover ceremony was attended by the Honorable Patrick Faber, Minister of Education and Youth, Sports, and Culture, along with representatives from the Ministry of Education, local government and school officials, and families of San Isidro students. The short program was officiated by Mr. Jose Funez, Principal of San Isidro School, with U.S. Embassy Belmopan Chargé d'Affaires, a.i. Keith Gilges speaking on behalf of the United States.
In his remarks, Chargé Gilges emphasized, "Advancing educational opportunities for Belizean youth is one of the single most important ways we can create sustainable economic growth and development in this country that we affectionately call the 'Jewel'. I am proud of this project, and the impact it will have on the local community for generations to come. The San Isidro School building is by no means the first nor the last of many ongoing U.S. government school building projects across Belize. It is, however, an excellent example of how the strong and productive partnership between our two countries makes a genuine difference in the lives of real people and actual communities."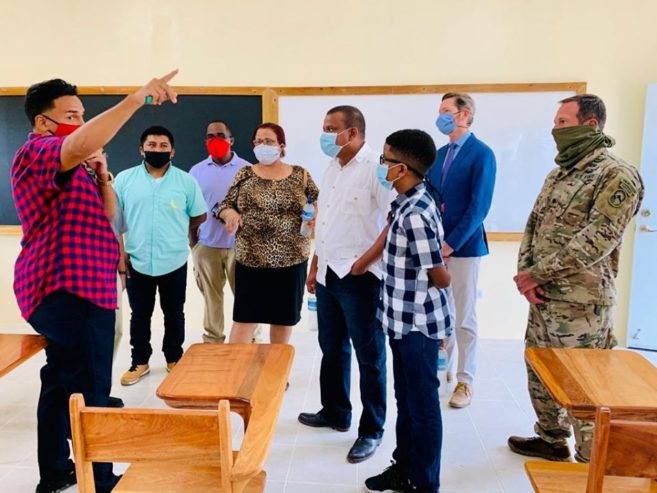 Minister Faber highlighted partnership in his own remarks. "Today we have a gift from the government and people of the United States. This school, in my opinion, represents truly a joint effort of many education stakeholders to provide a much needed service of educational opportunity that will see our young people develop," he stated.
This school building project was initiated in 2018, as part of the United States Southern Command's Humanitarian Assistance Program, and was implemented through the U.S. Embassy Security Cooperation Office. The purpose of this project was collaborate with the Government of Belize to provide environment conducive to learning for children in an economically challenged region. The newly built classroom building is part of the larger San Isidro School and will expand the number of students who are able to attend the school.
For the first time in the history of the island's community newspaper, The San Pedro Sun is appealing to their thousands of readers to help support the paper during the COVID-19 pandemic. Since 1991 we have tirelessly provided vital local and national news. Now, more than ever, our community depends on us for trustworthy reporting, but our hard work comes with a cost. We need your support to keep delivering the news you rely on each and every day. Every reader contribution, however big or small, is so valuable. Please support us by making a contribution.
News Source:
U.S. Government Hands Over Classroom Building in San Isidro to Ministry of Education
Docente - Investigadora Educativa.
Venezolana.
Doctora en Cs. de la Educación, Magíster en Desarrollo Curricular y Licenciada en Relaciones Industriales.