Nigeria: Repositioning Edo Education through Improving Standard
Nigeria/ 07 July, 2021/ Source/ https://www.thisdaylive.com/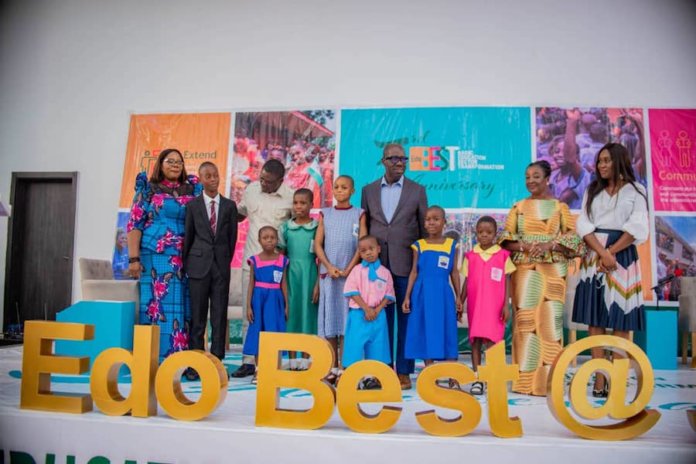 With the inauguration of Edo Basic Education Sector Transformation 2.0, as the initiative recently clocked three years, the state government explained why it is poised to take the sector to another level so as to enhance quality and learning. Funmi Ogundare reports
The Edo State Government recently commemorated the third year of introducing the Basic Education Sector Transformation (Edo BEST) initiative, designed to increase learning gains and create an enabling environment for pupils' development especially at the basic education level.
To ensure that the system works, the state government had already introduced the five pillars of system strengthening and organisational development, teacher professional development and quality assurance, curriculum development and learning outcomes, community engagement and partnerships, as well as school infrastructure and facilities.
All of these have already been set in motion against the backdrop of Governor Godwin Obaseki's strong belief that basic education is the foundation of education.
Speaking during the inauguration of Edo BEST 2.0 held at the Government House, Benin City, the governor, who also used the opportunity to expand the Edo BEST programme to capture secondary schools and tertiary institutions in the state, said this became necessary to ensure that secondary schools and tertiary institutions in the state benefit from the gains in digital teaching recorded in primary schools through the initiative, which was inaugurated in 2018.
According to him, "as far as we are concerned in the state, the Edo BEST programme is one of our greatest achievements. We are very happy that Edo BEST has gained global and local recognition. We want to replicate the successes and achievements that we have made in EdoBEST to EdoBEST 2.0, which is meant to capture our secondary schools and higher institutions in our dear state. As a government, we have decided to focus on the foundation and improve the quality of education at the basic level, so that the children can be connected to the world and be able to read and write at an early age. We are going to track the performance of teachers, inspectors and quality assurance officers."
The governor also disclosed the state's readiness to ensure that a technical school is built in every local government area, adding that it will be a collaboration between the state and local government, as well as the private sector.
"We want to strengthen the capacity of our teachers at the basic level and ensure that there is quality at every level. Our graduates should be able to have skills to set up themselves," he said.
According to him, the tertiary institutions are going to focus on producing certain kinds of manpower, particularly agriculture and healthcare, among others, while promising that his administration would make tertiary institutions in the state competitive globally.
"Our education system must deliberately work on our national values. We are working hard to ensure that the same method used to achieve success in Edo BEST in three years will be used to change our junior and senior secondary schoools and the university system."
He commended the Chairperson, Edo State Universal Basic Education Board (Edo-SUBEB), Dr. Joan Osa-Oviawe for ensuring the success of the initiative, adding, "I don't see how Edo BEST would have been successful if not for the person of Dr. Joan Oviawe and her team.
"You have helped us build these children to primary six level, now, what is next? So, today we are going to unveil the Edo BEST 2.0, as a way to ensure that the gains of learning at the basic education level is sustained after the first six years."
Obaseki highlighted the progress made so far, saying, "Edo BEST is work in progress, we are not where we want to be yet, but we need to accelerate. Our kids are now learning better; their level is about 70 per cent of their colleagues in Europe and Asia. They are far from where their colleagues in Nigeria are; that's not the standard. We want to be at 100 per cent. We want to extend this education transformation throughout the educational chain; basic education system, middle school, technical colleges and tertiary institutions.
Asked how he is able to cope with the enormous challenges especially in governance, Obaseki told pupils during an interactive session with him that, "you must be knowledgeable which comes from taking your education seriously. Once you are able to go through school and you are diligent, you will be able to know what is right and participate in what is going on in the society and know what the problems are."
He commended the teachers, saying that with their continued support, Edo BEST 2.0, will be a success.
"Government alone cannot do it. Education should be communally owned, it is a public good, it can't be owned by an aspect of government. We need to make adequate our education system."
In her remarks, the Chairman of Edo-SUBEB enumerated some of the successes it had recorded in the last three years, saying, "teachers' attendance in Edo State today is 91 per cent, lessons completion rate as at today is 81 per cent and the focus is to achieve 100 per cent and perfection.
"We also recorded 17 per cent increase in the enrollment into public schools in Edo State, which has amounted to 21,000 pupils coming into the system from the private schools. Our successes so far is a motivation for us to continue to work hard."
Oviawe said despite the global shutdown as a result of COVID-19 pandemic, the teachers were able to create over 7,000 virtual classrooms to enable pupils continue with their learning, as contents were uploaded on its website to ensure continuity.
Earlier, in her welcome address, a pupil of Iguodala Primary School, Stephanie Osewengie, commended Governor Obaseki for improving the standard of education in Edo State, especially the basic level.
She said, "Edo BEST has brought out the best in Edo children, putting them in the best position to compete with other children from well developed nations. The programme has prepared us to take over the leadership of the nation."
Some of the teachers who spoke to journalists, explained how they have been impacted with the automated technology-backed new learning system.
A primary two teacher at Obaseki Primary School, Benin City, Mrs. Rosemary Ezehiwele, who has taught in Edo State for the past 11 years, described the transformation of teaching from analogue to digital as amazing.
"It has really helped in creating a better future for our pupils in the state by helping to improve their vocabulary development, with the use of connective symbols, speech sounds, thinking ability and logics in Mathematics, they are now highly knowledgeable and can compete globally. The Edo BEST programme, has really equipped them."
Asked where she sees her pupils with the initiative 2.0, she said in the nearest future, they are going to be at the apex of it and the pupils would be able to compete worldwide.
"I see them being top in all areas of educational system and being the best. There is nothing like truancy in our system as far as Edo BEST is concerned, they learn with ease and teachers don't struggle to teach the pupils. The learning outcomes has been amazing."
On her class schedule for the day, Ezehiwele said, "we normally have teachers computer on a daily basis. I preview my lessons so that if there is any issue in the course of teaching the next day, I could easily trash it out, and in the morning the lessons are made easy. I do morning prep and ensure that the board is set for the day. I get to school as early as 6.30 am everyday and at the end of each lesson, I save and exit to have a good lesson completion. I take up to nine lessons. We have independent lessons and I mark their homework."
Ezehiwele said the Edo BEST initiative has made her more competent, committed punctual and hard working.
"There is nothing like truancy because we are always busy. It has even improved my ability as a teacher to even read more. So the difference is visible."
Another teacher of Idumowu Primary School, Ebele Igueben Local Government Area, Mr. Micheal Osahon Osaigbovo, who has been teaching since 2008, emphaised on the difference between the analogue system which they were using before the introduction of Edo BEST and digital system, saying, "then, we used to write notes and consult books, but now, we have schedules and the schedule comes directly into our computer and we teach from there. The push now is different from how it used to be, it used to be manual, but now its digital. The children are studying more."
He noted that the impact on the pupils has been tremendous, adding that their speaking and reading skills have improved.
"So we use sounds and pictures to help identify letters (phonics) at an early age. We also instil confidence into them to eliminate their fears, we use pictures to illustrate things and call them out to identify things. When you see children being able to identify things by themselves, you are able to build their courage."