Australia: Sydney school breaks IB record with top marks for 10 students
Australia/ January 05, 2022/By Jordan Baker/Source: https://www.smh.com.au/
For a few months, International Baccalaureate diploma students feared they might not be able to do their exams. Unlike the HSC, the IB diploma is sat by students across the globe so cannot be postponed due to COVID-19 outbreaks in a few Australian states.
The uncertainty added extra stress to an already-difficult preparation, which involved more than a term in lockdown. And yet, despite the hurdles, MLC School in Burwood in Sydney's inner west, set a state record, with 10 of its 49 IB students achieving a perfect score of 45. This equates to an ATAR of 99.95.
"It's very surprising – it's so good," said Montana Cominos, who was among those achieving a top score."[The fate of the exam] was very shaky at certain points. And no one can deny how difficult it is to work at home, you're not really motivated. We were all feeling that.
"But by the time we got to the final exams, we were all really excited."
Usually, International Baccalaureate marks arrive more than a fortnight after the HSC. This year, the IB results came first, after COVID-19 concerns delayed the Higher School Certificate marking process by more than a month.
"The wait for the results this year didn't feel as long because the HSC girls didn't get theirs first," Ms Cominos said. "It's almost as though they came too soon."
Across Australia, 2644 students sat IB diploma exams in the November session for schools in the southern hemisphere. Their average mark was 37 out of 40, with a pass rate of 98 per cent. More than 875 students achieved a score above 40, which equates to an ATAR of more than 97.9.
About 1.1 per cent of candidates in the session achieved a perfect score, and the global average was 32.37. In many cases over the past two years, COVID-19 outbreaks have forced some countries to cancel IB exams. In those cases, assessment marks are used to determine results.
MLC's head of senior school, Neil Scotney, said he was thrilled for the girls and their families. "With such incredible dislocation and doubt over the past two years, I would've been happy if they all simply passed," he said. "They have gone above and beyond to achieve these results."
At Trinity Grammar, which has the biggest IB cohort in NSW with 111 candidates, seven students achieved 45 and 11 were awarded 44. "While these are outstanding results, they should not be the only measure of success – far more valuable is to look at the men of character that our boys have become," headmaster Tim Bowden said.
Four students at Newington achieved top marks, as did three at St Paul's Grammar School, one at Ravenswood, and two at Redlands. Two students at St Andrew's Cathedral, Gemma Gardiner and Dylan Nguyen, also got scores of 45, and 14 per cent of the school's cohort achieved an ATAR above 99.
Redlands, which has offered the diploma for more than 30 years, also had one set of twins and another set of siblings sitting the IB examinations. Emily Barrelle, 18, and Natalie Watson achieved scores of 44, or an ATAR of 99.75. Their brothers – both James – scored 42, which equates to an ATAR of 99.1.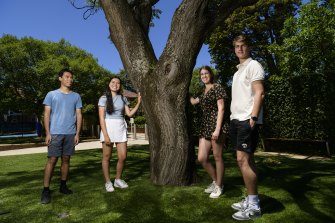 The Watsons – who were born 11 months apart, but are in the same year at school – have received offers from universities in the United Kingdom to study anthropology and international relations.
Like many of their classmates, Emily and James Barrelle accepted early offers from the Australian National University. "We're going to the same college but hopefully not the same hallway," Ms Barrelle. "We've lived together our entire life; university is a time to become more independent and find out what your main interests are."
Unlike other states, the IB diploma is only available to NSW students at private schools.
The Morning Edition newsletter is our guide to the day's most important and interesting stories, analysis and insights. Sign up here.
* Jordan Baker is Education Editor of The Sydney Morning Herald
Source: https://www.smh.com.au/national/nsw/sydney-school-breaks-ib-record-with-top-marks-for-10-students-20220103-p59lkc.html
Docente - Investigadora Educativa.
Venezolana.
Doctora en Cs. de la Educación, Magíster en Desarrollo Curricular y Licenciada en Relaciones Industriales.