By E. Tammy Kim
A new history draws on recently declassified archives to illustrate how the Korean War was an intimate civil conflict, not just a proxy battle between superpowers.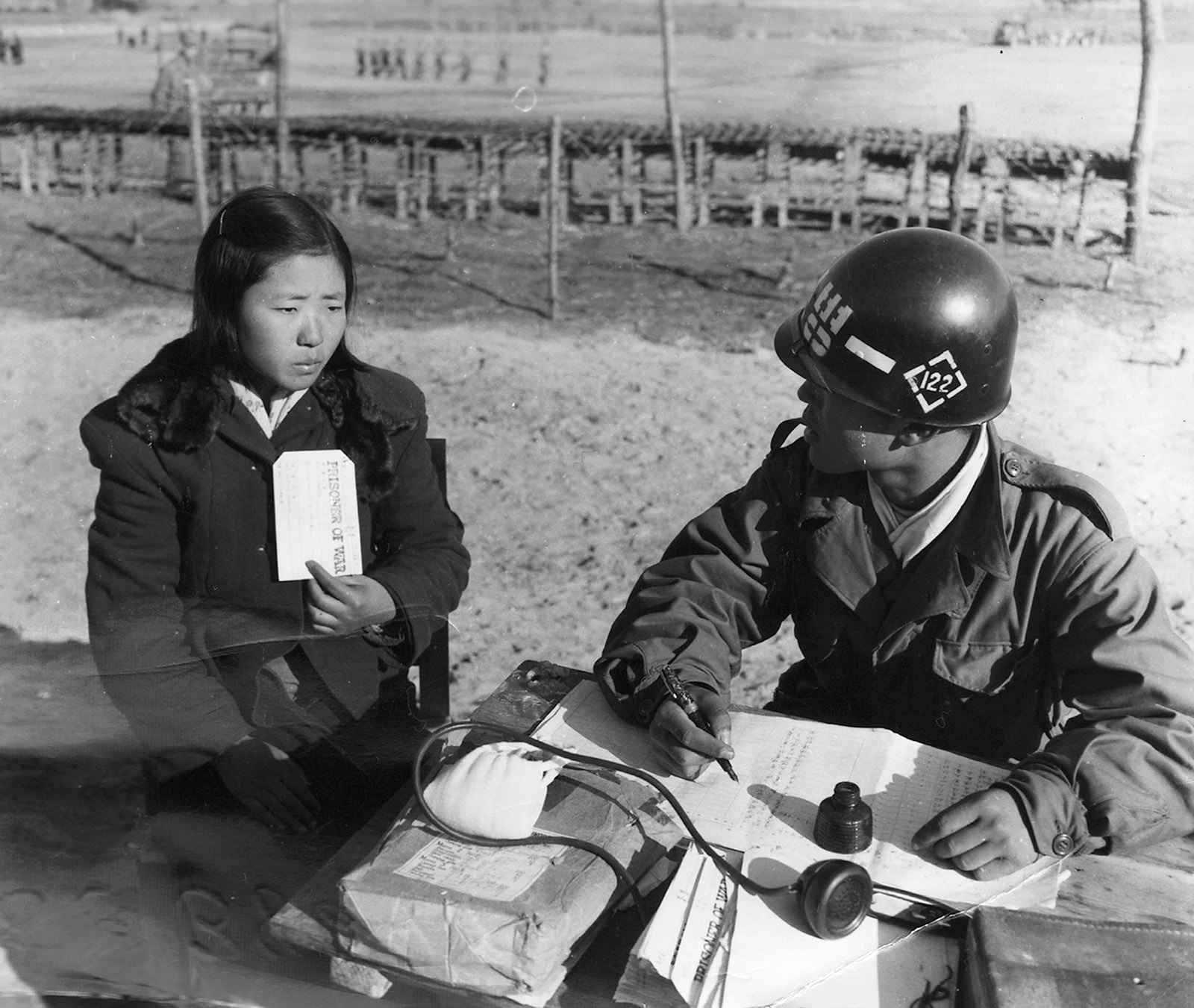 Corporal Paul E. Stout/National Archives and Records Administration
On New Year's Day, I went to a bookstore in Cheonan, South Korea, to buy a wall map of the country. The label said, simply, "Map of Korea," so when I got home and unfolded it, I was surprised to see that it showed both North and South—the entire peninsula and its hundreds of surrounding islands. The wars of the twentieth century had turned one country into two, mutually cordoned off and inaccessible; South Koreans are not permitted to visit North Korea, or even its websites, and vice versa. My new map felt strangely aspirational. The armored boundary between the two Koreas, the Demilitarized Zone that meanders along the 38th parallel, was just a thin, red dotted line, hard to make out.
That red line was first drawn at the end of World War II, when Korea was freed after decades of Japanese rule and cracked into Soviet and American halves. In 1948 the Democratic People's Republic of Korea was established in the North and the Republic of Korea in the South. The Great Powers installed authoritarian leaders to their liking, giving ordinary people little say. Leftists in the south of the peninsula formed underground communes and waged guerrilla struggles. Tens of thousands were massacred by US-backed South Korean forces.
In 1950 troops from Soviet-controlled North Korea crossed into the US-controlled South. The Chinese army later entered the war to support the North, and the US worked through a nascent UN to recruit infantrymen from fifteen other countries. (Officially, President Truman did not ask Congress for a war declaration, calling UN intervention in support of the South a "police action.") Many Koreans found themselves fighting for one side or the other simply by chance. In the three years that followed, some four million people, most of them civilians, were killed. Millions more were injured or separated from their families, and the landscape was razed. The Korean War ended in a stalemate and an armistice that was meant to be temporary.
This was nearly seventy years ago. There is no longer active warfare on the peninsula (despite the occasional skirmish, rocket launch, and military drill), but neither is there a peace treaty. This fragile détente is held in place by an extraordinary buildup of arms, some of which are American. Nearly 30,000 US troops are still stationed in South Korea, ostensibly to defend it in the event of another invasion.
The Korean War was "the war that was not a war," writes Monica Kim in The Interrogation Rooms of the Korean War: The Untold History. Kim, a Korean American historian at the University of Wisconsin at Madison, delves into a large archive of prisoner-of-war case files recently declassified by the US. She also draws on memoirs in English and Korean, interviews, even petitions written in blood. What results is a composite tale of the hundreds of thousands of POWs—rank-and-file soldiers and "civilian internees"—who were captured and held in sprawling, miserable camps on both sides of the 38th parallel.