Give more pupils free school meals, teachers in England say
By By Kate McGough
BBC News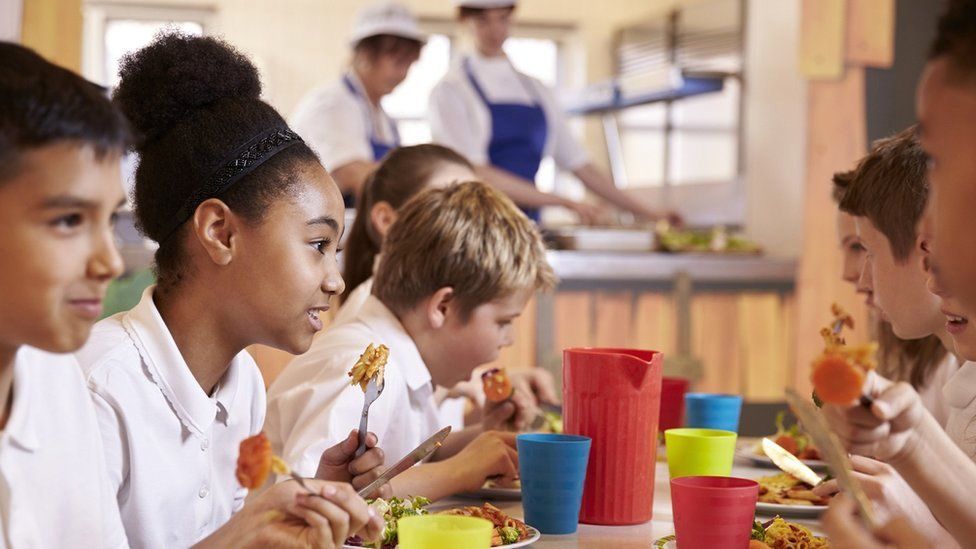 One in five pupils in England are eligible for free school meals, according to the most recent data
More children should be given free school meals to help tackle the "devastating reality" of the cost of living crisis in England, teachers say.
In a letter seen exclusively by the BBC, teaching unions said all children from families who receive universal credit should be eligible as part of an "urgent" expansion of the scheme.
Around one in five pupils – 1.7 million children – receive free school meals.
The government said it recognised households were struggling.
It said it had expanded access to free school meals more than any other government in recent decades.
The prices of food, fuel and other goods have surged in recent months in the UK, pushing inflation – the rate at which prices rise – to a 40-year high.
But the joint letter, sent to Chancellor Rishi Sunak and Secretary of State for Education Nadhim Zahawi by teaching unions and other organisations claiming to represent one million school staff in England, said vulnerable children not receiving free school meals were facing a "real barrier to learning".
"We see the devastating reality of children coming to school unable to afford to buy lunch, because their family circumstances means they fall outside the restrictive free school meal eligibility criteria," it said.
In England, all infant state school pupils up to Year Two can get free school meals during term time.
For English pupils in Year Three and above, those living in households on income-related benefits (such as universal credit) are eligible for free school meals, as long as their annual household income does not exceed £7,400 after tax. That figure does not include welfare payments.
In Northern Ireland the cap is set at £14,000 a year.
An estimated 2.6 million children in the UK live in households that missed meals or struggled to access healthy food during April, according to data from the Food Foundation charity.
Dr Nick Capstick, the head teacher of Drove Primary School in Wiltshire and a signatory to the letter, wants free school meals extended to all pupils.
"We are seeing more of our pupils having time away from school because of illness and poor oral hygiene caused by inadequate diet," said Dr Capstick, who is also chairman of an independent working group, the School Food Review.
"Schools are increasingly faced with the need to support and often feed young people whose families can no longer afford the right food at home," he told BBC News.
"Universal free schools meals is a simple way of eradicating this situation."
A government spokesperson said: "We recognise that millions of households across the UK are struggling to make their incomes stretch to cover the rising cost of living, which is why, in addition to the over £22bn announced previously, we are providing over £15bn in further support, targeted particularly on those with the greatest need.
"The holiday activities and food programme runs during major school holidays, and wider welfare support is available through the household support fund, which helps vulnerable families in need with essentials, such as food and utility bills."
Source