Education New Zealand Reimagines Graduation Gowns in New Campaign Via Special Group
New Zealand/July 21, 2022/Source: https://campaignbrief.co.nz
The graduation gown is a symbol of education bound in history and tradition that dates back to over 900 years ago. But while the education world has changed a lot since then, what we wear to celebrate our achievements on our education journey has not caught up
In collaboration with students from the education community, a team of New Zealand fashion industry experts, lead by Kiri Nathan, reimagined the graduation gown to better represent the unique education offering here in Aotearoa, New Zealand.
The concept was designed to reflect the connection to Te Ao Māori, respect for nature, and the sustainable and innovative ways of thinking that defines the New Zealand education experience.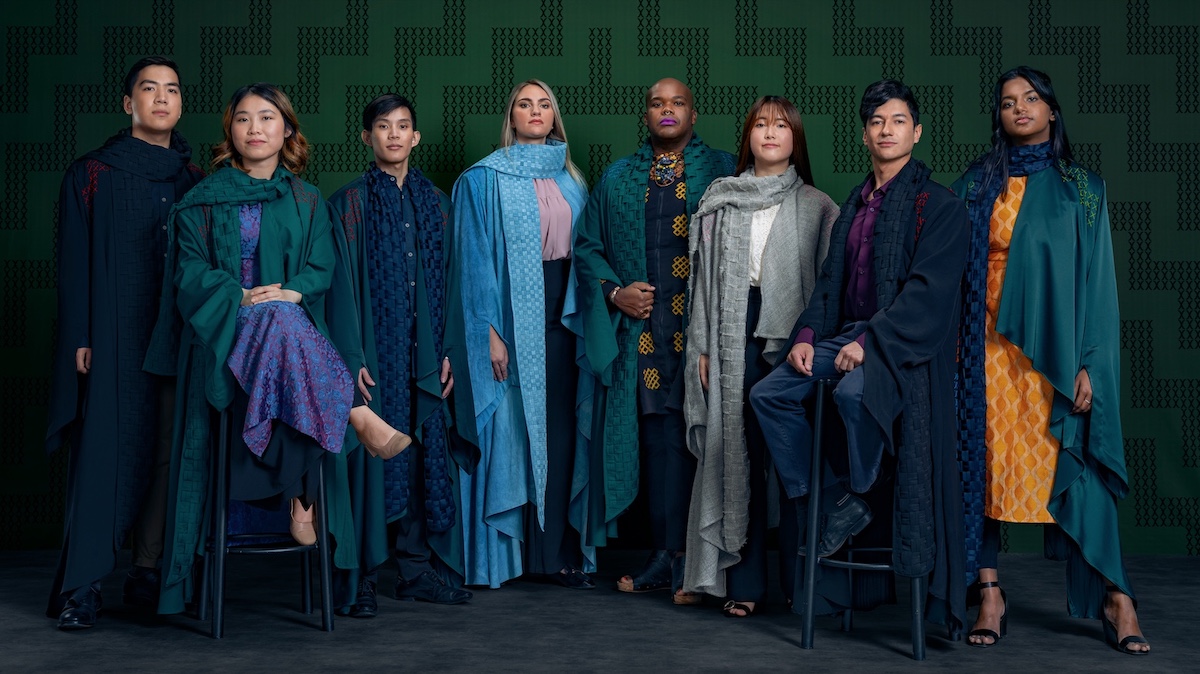 Says Clayton Foster, brand director, Education New Zealand: "A New Zealand education encourages a new way of thinking and asks students to look at things from a new perspective. As we reopen to the world and welcome our international student community back with open arms, Te Kākahu Hou will serve as a powerful tool to entice learners to choose Aotearoa, New Zealand as their study partner."
To introduce Te Kākahu Hou to the world, eight were produced by Whitecliffe, School of Fashion & Sustainability students and gifted to eight international students from China, Colombia, Germany, India, Japan, Thailand, USA, and Vietnam. The design process and the stories of these international students' experience of study and life in New Zealand will feature as part of a global content campaign – spanning across digital and social channels, PR and events.
Says Stu Mallarkey, executive creative director at Special: "Aotearoa is known for having a progressive and forward-thinking education sector, yet it is symbolised by the traditional graduation gown from a bygone era. We created this new symbol as a way to showcase our new thinking and new perspectives – something only a country such as New Zealand would consider doing."
Says Kiri Nathan, leading New Zealand fashion designer: "Te Kākahu Hou represents our cultural origins, and our responsibilities as kaitiaki (guardians) to sustainability, our design team had the privilege of reimagining how a graduation garment could connect to the New Zealand education values of Manaakitanga, Kaitiakitanga and Māui Pōtiki to students choosing to study in Aotearoa New Zealand."
Blending innovation with tradition, Te Kākahu Hou features a hand embroidered Poutama pattern to symbolise the steps students take on their learning journey. The colour of this pattern can be customised to represent the recipient's identity. A hand-woven scarf element represents the weaving together of cultures, identities, and different ways of thinking that make up our education community.
Unlike its predecessors, Te Kākahu Hou can come in many different colourways and be produced in a variety of sustainable textiles to reflect the care we have for future of the planet. For the initial creations, this included repurposed and naturally dyed commercial linen, circular New Zealand milled biodegradable wool, and deadstock fabrics.
Education New Zealand believes this concept has rich long-term possibilities, which will be explored and brought to life in the near future.
Client – Education New Zealand Manapou ki te Ao
General Manager Partnerships & Marketing: Paul Irwin
Director Marketing: Kaylee Butters
Director Brand & Design: Clayton Foster
Director Communications & Public Relations: Geoff Bilbrough
International Brand Engagement Manager: Laura Lingard
Digital Project Manager: Brooke Quinn
Global Campaigns & Communities Manager: Gerard Duignan
Production Manager (Global Campaign): Rich Ban
International Brand Engagement Manager: Rachel Stanion
Campaigns Project Manager: Jordana Zhu
Agency: Special Group Auckland
Founder & CCO: Tony Bradbourne
Executive Creative Director & Head of Digital: Stu Mallarkey
Senior Creative: Tom Johnson
Creative Director & Cultural Lead: Arnya Karaitiana
Creative Director: Sarah Shepherd
Chief Strategy Officer: Rory Gallery
Group Strategy Director: Nick Salter
Strategy Director: Jolene D'Souza
Group Business Director: Hugo Parcell
Senior Business Director: Sam Hall
Head of PR & Influence: Kelly Grindle
Head of Production: Katie Mortensen
Senior Producer: Liz Garneau
Creative Partner and Production: Wrestler
Director: Hannah McOwan
Producer: Deirdre Crowley
DOP: Jake Munro
Post Production Producer: Jasmine St John
Editors: Conan Mornard-Stott, Sam Caino, Ben Cushman
Colour: Luke Ross and Gareth Evans
Post production sound: Pow Studios
Music composition and production: Milk Bun
Media Agency: OMD Wellington
Account Director: Melissa Falconer
Digital Business Manager: Winnie Nadi
Photographer: Steve Boniface
Retoucher: Cameron Jones
Source: https://campaignbrief.co.nz/2022/06/22/education-new-zealand-reimagines-graduation-gowns-in-new-campaign-via-special-group/
Docente - Investigadora Educativa.
Venezolana.
Doctora en Cs. de la Educación, Magíster en Desarrollo Curricular y Licenciada en Relaciones Industriales.