Education leaders in England fear one thing: that schools, colleges and universities will be hammered by the cost of living crisis but will not be enough of a priority to get the help they need from government. And they see little hope from a change in leadership at No 10.
"Our costs are going through the roof, our staff badly need pay rises and are going to strike, our students are suffering, but our income is stuck," said one vice-chancellor, echoing their peers in schools and colleges around the country.
While inflation and the cost of living dominate the headlines, and headteachers are having to revise their budgets to account for rising expenses, few expect that a new prime minister will focus on tackling any of the structural problems the sector faces, after education policy barely featured in any of the Conservative party's leadership debates.
Liz Truss, in particular, made only two policy pledges involving schools or universities: backing an expansion of grammar schools, and offering mandatory Oxbridge interviews for able school-leavers. She was silent on problems such as the persistent attainment gap between the poorest and richest pupils.
Natalie Perera, the chief executive of the Education Policy Institute, said: "I think the cost of living will potentially dominate public policy. That's not necessarily wrong, because it is an immediate issue for many families. But it shouldn't in theory stop the Department for Education from trying to pursue what it thinks is the right thing to do.
"I don't know if an incoming administration or education secretary knows what their education priorities ought to be, or whether they will be distracted by things like extending grammar schools or guaranteeing Oxbridge interviews for high-performing A-level students.
"That's what I worry about: that we will have continued distractions over policies that will either make no difference at all to social mobility, or even harm it. Meanwhile, we've got an attainment gap that's opening up between poor kids and the rest, and between the north and the south of the country."
Rising costs are not the only immediate difficulties. Schools in England are struggling to retain experienced teachers and attract new ones, while the shadow of Covid hangs over efforts to help students recover the learning disrupted over the past two years. Meanwhile, decision-making on a host of issues – from special needs provision, to university entry requirements, to upcoming legislation – has stalled as ministers come and go.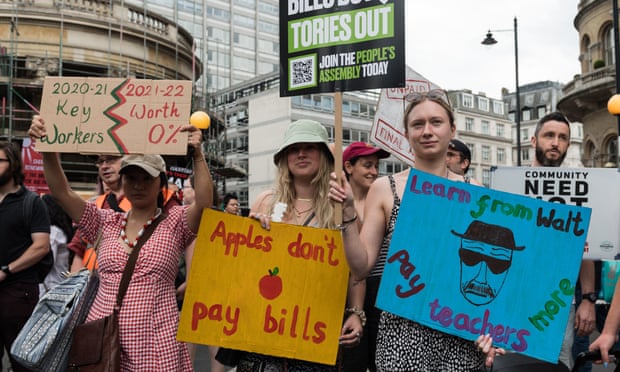 Source: https://www.theguardian.com/uk-news/2022/aug/30/campaigning-to-keep-the-lights-on-the-desperate-plight-of-englands-schools-and-universities