Education plays vital role in Party growth
By Cao Yin | CHINA DAILY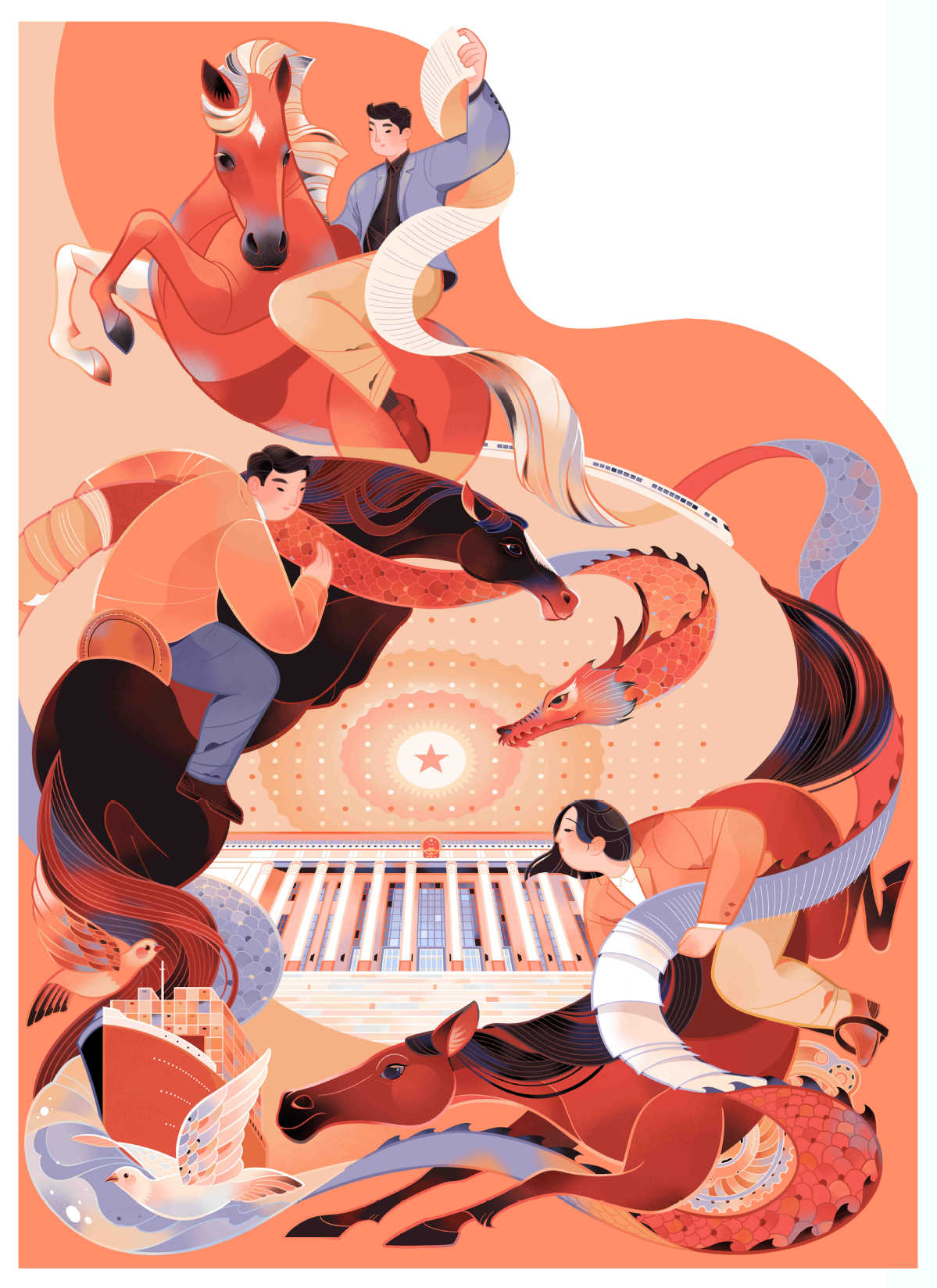 Long history of learning boosts governance ability
Zheng Xiaoming was charged with implementing the restructuring of a State-owned enterprise in Hunan province in April last year. For him, the challenge was figuring out exactly how to achieve this.
Then, Zheng, head and Party secretary of the company that produces and sells sugar, alcohol and nonstaple foods, attended a training session at the China Executive Leadership Academy in Jinggangshan, Jiangxi province.
The session, which ran from April 6 to 20, helped him find the solution to his problem, which was to listen to his employees' views.
"Simply put, I learned that I needed to understand workers' demands and draw up a reform plan based on these, instead of dreaming up solutions in the office," the 41-year-old said.
Zheng reached this conclusion after studying a survey report on the agricultural economy during the training session. The report was written by Chairman Mao Zedong in Xunwu county, Jiangxi, in 1930, when the Communist Party of China had established revolutionary bases in the border areas of Jiangxi and Fujian provinces.
To clearly understand the economic situation in rural areas and small cities at that time, Mao completed the survey based on the real situation — analyzing different sectors in Xunwu, including transportation, commerce and handicrafts.
Zheng said: "I was impressed by that specific survey report. It made me realize that conducting a survey could be a methodology in many respects."
After returning to Changsha, capital of Hunan, he talked to every employee at his company to understand their situation and demands, before drafting and carrying out reforms at the enterprise.
The company is now fully equipped with a modern operating system, and employees compete for positions and gain promotion based on ability, instead of seniority. The company has also innovated sales and diversified products. By the end of last year, its sales revenue had risen by 6.8 times compared with before the reforms were introduced.
Zheng said: "Learning is a must. It's not only essential to improve my management capability, but also helpful in stimulating the vitality of my enterprise."
Dai Yanjun, professor at the Party School of the CPC Central Committee, said that learning and education are fine traditions among Party members, and such traditions have helped the Party think big and continue boosting its ability to govern the world's most populous nation.
"Since the CPC was founded, intraparty education has never stopped, and the goal of learning has never changed," Dai said. "This has contributed to the Party's growth in every respect and its mission to serve the people wholeheartedly."
Xi Jinping, general secretary of the CPC Central Committee, has said on many occasions that the Party school is an important part of the Party's entire cause, and a main channel to education and for training officials. A party school system from central to local level has become a prominent political advantage for the CPC.
Long tradition
Dai said that when the Party was founded, cultivating Marxist talent was a priority, so the Party established a Marxist communist school in Ruijin, Jiangxi, in 1933.
Education and learning at that time mainly focused on basic Marxist theories as well as the CPC's mission and purpose, he said.
Soon after the Red Army arrived in Shaanxi province, the school was renamed the Party School of the CPC Central Committee, and since then it has educated Party cadres, promoted the Party's theoretical innovation and enhanced the Party's development.
To strengthen education, the Organization Department of the CPC Central Committee set up a total of three other executive leadership academies in Jinggangshan and Yan'an, Shaanxi, and in Pudong, Shanghai, in 2005.
The three schools are directly managed by the Organization Department, and they have become important bases for cultivating senior Party cadres, government officials, State-owned company executives, technicians and military officers.
In addition to the four central-level schools, there are about 3,000 Party schools at various levels nationwide, with some 2,500 of them operating at county level, according to official data.
In 2008, the central leadership issued work rules for Party educational institutions in an attempt to improve education through the rule of law and in a more standardized and institutionalized manner.
Dai said students at the Party School of the CPC Central Committee typically receive more systematic and relatively lengthy training courses on the Party's history and theories, adding that the duration of the courses usually ranges from two to six months. Study time at the three other academies is relatively short, generally lasting a few weeks, and many courses are based on local features, Dai said.
"For example, the academies in Jinggangshan and Yan'an offer courses to introduce the Party's history by taking trainees on visits to local revolutionary areas, while the courses in Pudong focus more on how the country carried out the reform and opening-up policy and the modernization drive under the Party's leadership."
However, all Party schools offer courses on the Party's original aspiration and founding mission — to seek happiness for the Chinese people and rejuvenation of the Chinese nation.
Wang Guocai, a judge at Beijing No 2 Intermediate People's Court, received one week's education at the Jinggangshan academy in June 2016. He said he benefited greatly from visiting local revolutionary areas where veterans fought.
As part of the training session, he was asked to dress in a replica Red Army uniform to walk along a rugged path, which was a route taken by the army, a forerunner of the People's Liberation Army. He had to carry rifles, sacks of food, and complete several tasks along the 5-kilometer trail.
"I read about this path in history books, but I had never walked along it. I will never forget the experience, because I now better realize the hard lives the older generation lived in the revolutionary cause," Wang said.
He added that he was inspired by the activity. "The fact that soldiers and civilians supported each other so much during the revolutionary period shows that the Party is from the people and for the people," he said.
"As a judge, I realize that serving the people means upholding justice in every case and giving litigants easier access to legal services."
In 2019, Wang was made director of the court's trial management department, responsible for supervising judges in concluding disputes within a specified period and improving the quality of case handling.
"Thanks to theoretical studies and learning about history in Jinggangshan, I've been able to think big in my work and develop a more profound understanding about the role of our court in economic and social development," he said.
"Previously, I was like a sailor. Solving cases was my entire work. But now, I'm more like a helmsman, as I am required to lead judges on the right path and assist litigants through better services."
In the long history of leading the Chinese revolution, social development and reform, the CPC, which had more than 96 million members as of the end of June, has developed through continuous learning.
Since Xi Jinping became general secretary of the CPC Central Committee in 2012, he has on numerous occasions underscored the importance of learning for all Party members to enable them to have stronger ideals and beliefs and build the CPC into a more powerful political Party.
At the 19th CPC National Congress in 2017, Xi said: "We should be good at learning. We'll foster a strong atmosphere of learning and practicing in the Party, and build our Party into a Marxist learning party."
Dai stressed that whether education is provided through face-to-face interviews with descendants of revolutionary martyrs, or through living and eating with villagers in rural areas, theoretical study is a compulsory course, as Marxism is constantly developing and the CPC's theoretical achievements are also being improved.
Highlighting the significance of continuing to learn, Dai said the changing structure of Party members, the situation at home and abroad, and work demands in different periods mean that the CPC has to adjust quickly to face challenges and cope with difficulties.
"In the 1950s, for instance, many Party members and cadres came from villages and factories without rich scientific knowledge, so education at that time focused more on literature, in addition to theoretical study," he said.
In the past decade, the Party School of the CPC Central Committee has begun offering more targeted courses, including those on the environment, ecology, culture and economy, to help cadres solve problems more effectively, Dai said.
"We should fully realize and better prepare for a complex situation with risks and challenges at home and abroad, trying the best to equip ourselves with strong political beliefs, theoretical mindsets and up-to-date knowledge through learning and education," he added.
New courses
The Jinggangshan academy has introduced several new courses to improve cadres' abilities in more respects, such as carrying out surveys, research and coping with emergencies.
Yan Qingyang, a professor at the academy, said: "Apart from launching new courses, we've diversified our teaching methods. For example, we take students to villages to help them learn how local people eradicated poverty and how rural vitalization has boosted their lives. We also share information about how technological innovators contribute to high-quality growth in local enterprises."
Teachers at the academy have combined some national initiatives and policies with specific examples, Yan said, adding that he has explained China's new development concepts and patterns to trainees by telling them about the launch of the Ganzhou International Land Port in Jiangxi.
"Through my introduction, students can better understand why our leadership put forward the new development concept and how it has been carried out. They also learn how the port functions and the influence it has had on the old revolutionary areas in the province," he added.
Yang Shaohua, another professor at the Jinggangshan academy, said the CPC has always valued education for its members, who gain experience and draw lessons from the past through learning about the Party's history. Such learning also boosts their confidence, he said.
Regarding the Party's century-long history of struggle as the "best textbook", Yang added that continuing to learn and update knowledge in various forms will help Party members maintain a strategic focus and march toward the goal of national rejuvenation.
As many of those born after 1980 have taken leading roles, but are relatively unfamiliar with the Party's early difficult years, the Jinggangshan academy has designed a new course, arranging for young officials at director level to visit counties and townships around the city and conduct surveys on poverty relief and rural vitalization.
The course aims to bring young Party members to rural areas to learn about conditions and public demands at grassroots level, and also helps them become more resilient and better cope with difficulties in their work.
Dai, regarding education as a lasting process, suggested those studying at the academies ask questions and try to seek the answers through learning.
"The ultimate goal is to use what they have learned to help the people solve difficulties and to serve the people. That's also the original purpose of every Party member," Dai said.
Source
https://www.chinadaily.com.cn/a/202210/12/WS6345f85fa310fd2b29e7bebe.html