Teachers join Jamie Oliver free school meals call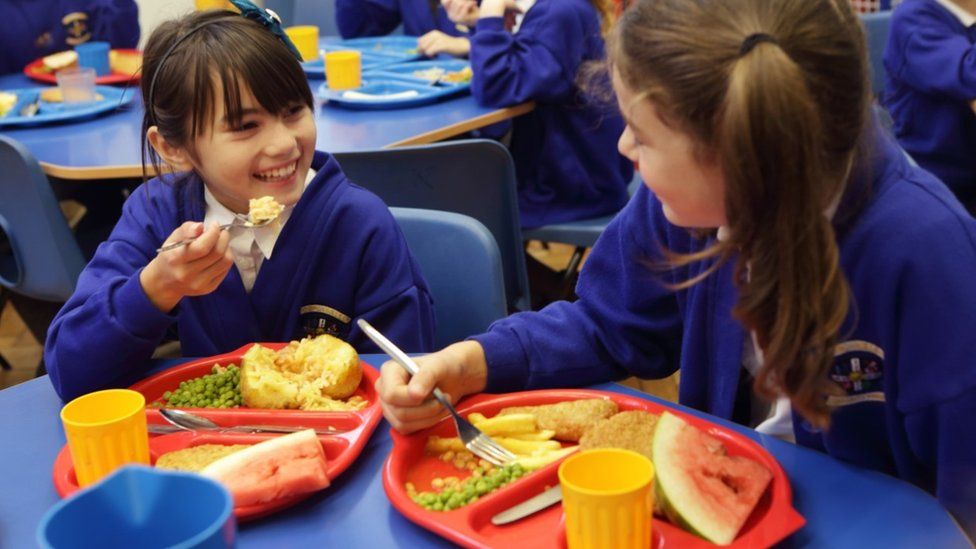 Por By Kate McGough BBC News
Teaching organisations have written to the prime minister, asking for all children in households on universal credit to be given free school meals.
It adds momentum to a campaign backed by Jamie Oliver, who has told BBC News the rule change would help some 800,000 of the "most vulnerable" children.
The government said it had already expanded access to free school meals more than any other in recent decades.
The letter, seen exclusively by BBC News, is signed by the leaders of 12 unions and other groups claiming to represent a million teaching staff, governors and school trustees across the UK.
It warns the prime minister, the chancellor and the education secretary that "hunger is now a real issue in our schools" and "too many families" not currently eligible for free school meals are struggling to afford them.
Expanding eligibility to all families receiving universal credit, or any equivalent benefit, is needed "as an immediate first step", the letter says, warning that not doing so "would undermine all the great efforts of the education workforce to tackle inequalities".
The letter is supported by the Feed the Future campaign, led by food-poverty organisations such as the Food Foundation, and campaigners, including Mr Oliver.
The celebrity chef told BBC News he was "up for the fight" with the government to improve children's health.
But the government has previously warned the Feed the Future campaign has under-estimated the cost of expanding the scheme.
A government official told BBC News: ""We understand that families are facing cost pressures due to international events driving up inflation and global energy prices. This is why we are providing over £37bn to help households with the greatest need.
"We have also expanded access to free school meals more than any other government in recent decades, which currently reaches 1.9 million children, and our national school breakfast programme supports schools by providing free breakfasts to children in schools in disadvantaged areas."
Who is eligible for free school meals in England?
About 1.9 million children in England are eligible for free school meals, the government says, 22.5% of all pupils.
All infant-school pupils are eligible but children in Year 3 and above must live in a household receiving income-related benefits, with an annual income – after tax and not including welfare payments – no higher than £7,400.
About 40% of people who claim universal credit already have jobs and may earn above this threshold.
Scotland and Wales have recently committed to offering free school meals to all primary pupils.
Source