Despite uncertain future, Ukrainian children slowly adapt to Japanese schools
Japan/November 07, 2022/BY KANAKO TAKAHARA/Source: https://www.japantimes.co.jp/
One Friday afternoon at a public elementary school in central Tokyo, a Japanese-language teacher was explaining how to say the time of day to a Ukrainian girl who came to Japan after she and her family fled her country following Russia's invasion.
When the teacher asked what time she woke up that morning, Olivia Zhuravel, 13, wrote down the answer — that she woke up at 6:45 a.m. — in hiragana.
"You see that it always comes with a ni after the time?" said Isuzu Yagi, the teacher. Olivia, a sixth grader, nodded but then tilted her head as if she was not entirely sure.
Olivia's mixture of progress and confusion in many ways speaks to the state that many Ukrainians in Japan now find themselves in.
It has been nearly eight months since the first batch of Ukrainians arrived in March. To date, about 2,000 have traveled to Japan, settling in a country which for most was completely foreign to them — in terms of both the language and the culture.
For children, going to a Japanese school has been a big part of the adaptation process, and it has come with struggles and challenges.
The Zhuravels — Olivia, her younger brother and her mother — arrived in Japan from Kyiv in early March, and since April the children have been attending Izumi Elementary School, having settled in a nearby apartment complex. Like many, the language barrier is the biggest struggle for the two children. As part of its support for Ukrainians who fled their country, the government has provided schools with funds for Japanese-language teachers and Russian-speaking translators to help the refugees settle in Japan. At Izumi Elementary School, Olivia and Jan receive Japanese lessons twice a week, and a lesson with a Russian-speaking translator present once a week.
"Ideally, they should take Japanese lessons every day," Yagi said. "Twice a week is not enough."
It's especially hard for children from Western countries, as hiragana, katakana and kanji characters are entirely new to them, she said, adding that it normally takes about two years for a student to reach a level with the language where they no longer require Japanese lessons.
Science is the most challenging subject for Olivia, while her favorites are arts and crafts, and home economics, in which she makes sports bags.
Everything was new for Olivia's mother, Olha, too. In Japan, there are six years of grade school followed by three years each for junior high and high school, whereas in Ukraine the system is divided into four, five and two years.
Small things also surprised Olha, from randoseru (backpacks for grade school students) and the large handkerchiefs placed on desks during lunch, to cushions for chairs that can be used in the event of an earthquake or fire called bōsai zukin.
"So it's very little but a lot of difference," she said with a laugh.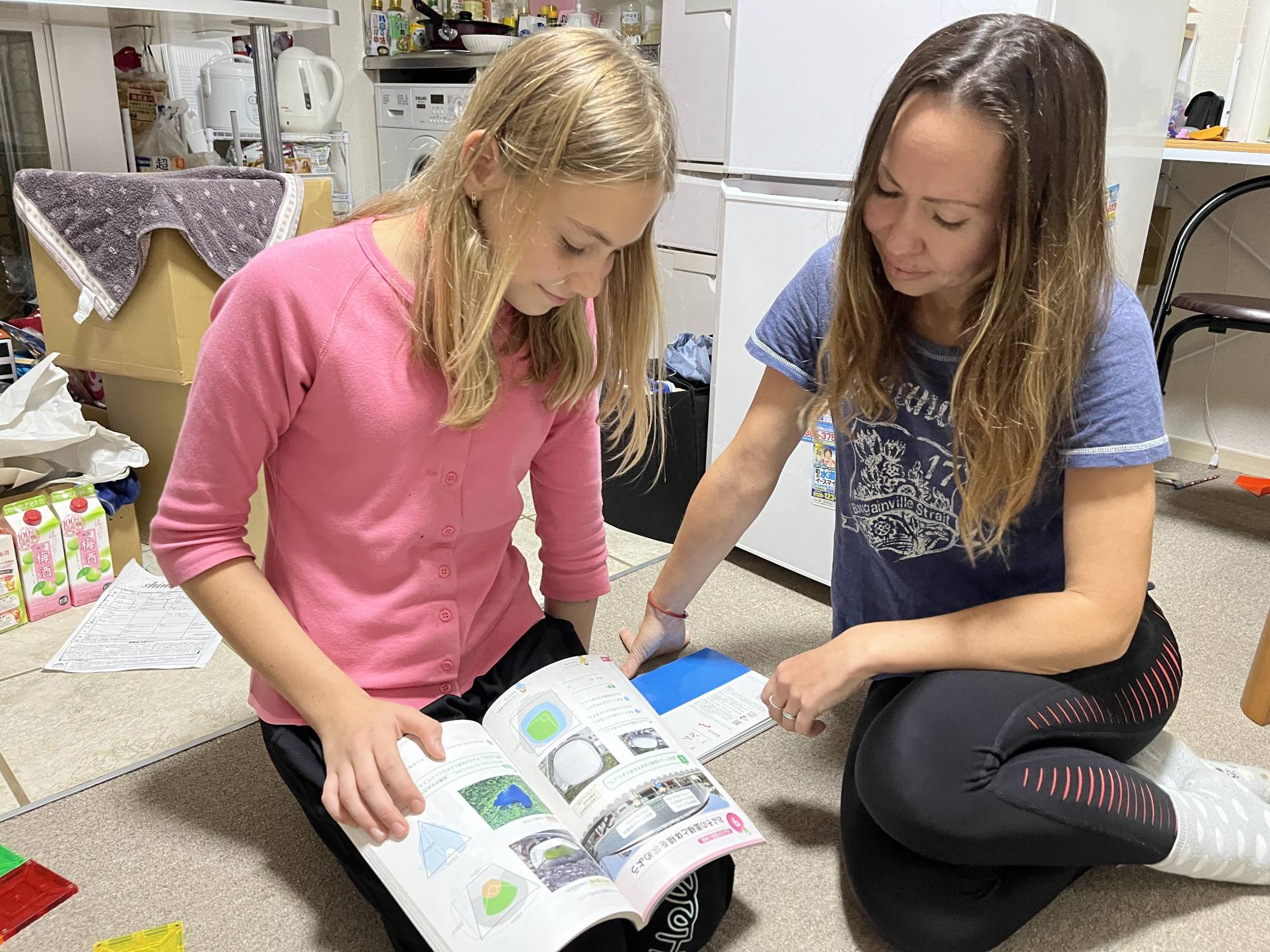 School principal Etsuko Murata says teachers are trying to make the new students feel included by focusing on things that don't require Japanese, such as arts and crafts, music or just having them play with classmates.
She has also allowed Olha to bring in snacks and sweets for the entire class on Olivia's and Jan's birthdays — a tradition in Ukraine — as a way for other students to understand Ukrainian culture.
Easier for younger children
The language barrier is less of a problem if the child is younger, since what they learn at school is not as difficult.
Nataliia Mulyavka fled Ukraine with her two daughters, age 6 and 3, arriving in Yokohama, where her relative lives. Her older daughter attends a nearby public school, while her younger sister goes to kindergarten.
"Everything is good. I have a girlfriend, Ryo-chan," said Myroslava Mulyavka, a first grader.
When Myroslava learns a new hiragana, katakana or kanji character, she teaches it to her mother and younger sister when she comes back home. Myroslava also receives Japanese-language lessons, while a Ukrainian-speaking volunteer teacher joins classes to help her understand things she doesn't understand in Japanese.
But given these barriers, Nataliia's focus is less on grades.
"From the very beginning of our evacuation to Japan, I tell my daughters that we have adventures. And going to school is another adventure," Natallia said. "My mood, my attitude to the process of life sets the tone of the child's mood." When she communicates with the school, she uses every tool she can — from facial expressions and gestures, to tablet computers and Google Translate.
But what has helped her most is a Japanese woman who lives nearby and has a daughter who goes to the same school. She helped Nataliia understand the Japanese school system and how it works, and has helped her communicate with her children's teachers.
"Always talk about what worries you. Do not be silent and do not accumulate thoughts," she said. "Because the quality of our life in a new country depends on how long I stay with a clear head."
International schools
Japanese public schools are not the only options Ukrainian children have, with international schools offering an alternative. There are 43 such schools in Tokyo alone, and these are an attractive option for children who speak English.
But with international schools being outside the public system, the cost, which typically is around ¥1 million ($6,750) to ¥2 million a year, can be a major hurdle. Public elementary and junior high schools, on the other hand, are free of charge.
Sapporo-based Hokkaido International School accepted a 16-year-old Ukrainian girl earlier this year, granting her a scholarship for young female leaders, which covers most of her school fees until she graduates high school.
High school students with a household income below a certain threshold get government funds to cover tuition. But those benefits are only available to students at international schools designated by the education ministry. Tim Schlosser, head of Hokkaido International School, pointed out that more international schools would be able to accept Ukrainian evacuees if they had more government funding to do so.
"Many of these students may be coming with English skills already," he said. "International schools are also equipped to prepare kids for life in Japan, just in a different way, on a different track."
Uncertain future
What is most troubling for Ukrainian children and their parents is the uncertainty surrounding their future in Japan — whether they are staying for the long term or just for a year or so. This makes it difficult for them to decide whether they should be serious about learning Japanese and pursue an education in Japan, or just learn enough to get by day-to-day until they return to Ukraine.
Believing at first that the war in Ukraine would end in a matter of months, some simply took online classes in their home country instead of going to school locally. But during the summer holidays, when it became apparent that the war would likely drag on, some municipalities started receiving inquiries from parents who were thinking of enrolling their children in their local school.
"This is an opportunity for them to study Japanese and take in Japanese culture, even just for a short term," said Natalya Kovalova, who runs the Dzhereltse Sunday school for Ukrainian children in Tokyo.
One key way to help children become more proactive in studying Japanese is for parents to become a role model by learning Japanese culture and language themselves, said Kovalova, who also heads Kraiany, a Ukrainian community group in Japan.
"They need to decide for themselves what they want to do, not to live like a tourist here," she said.
And to help those who want to learn about Japan and language, they need more language lessons, from entry level to more advanced study, Kovalova said, urging the government to provide more classes for free, ideally every day.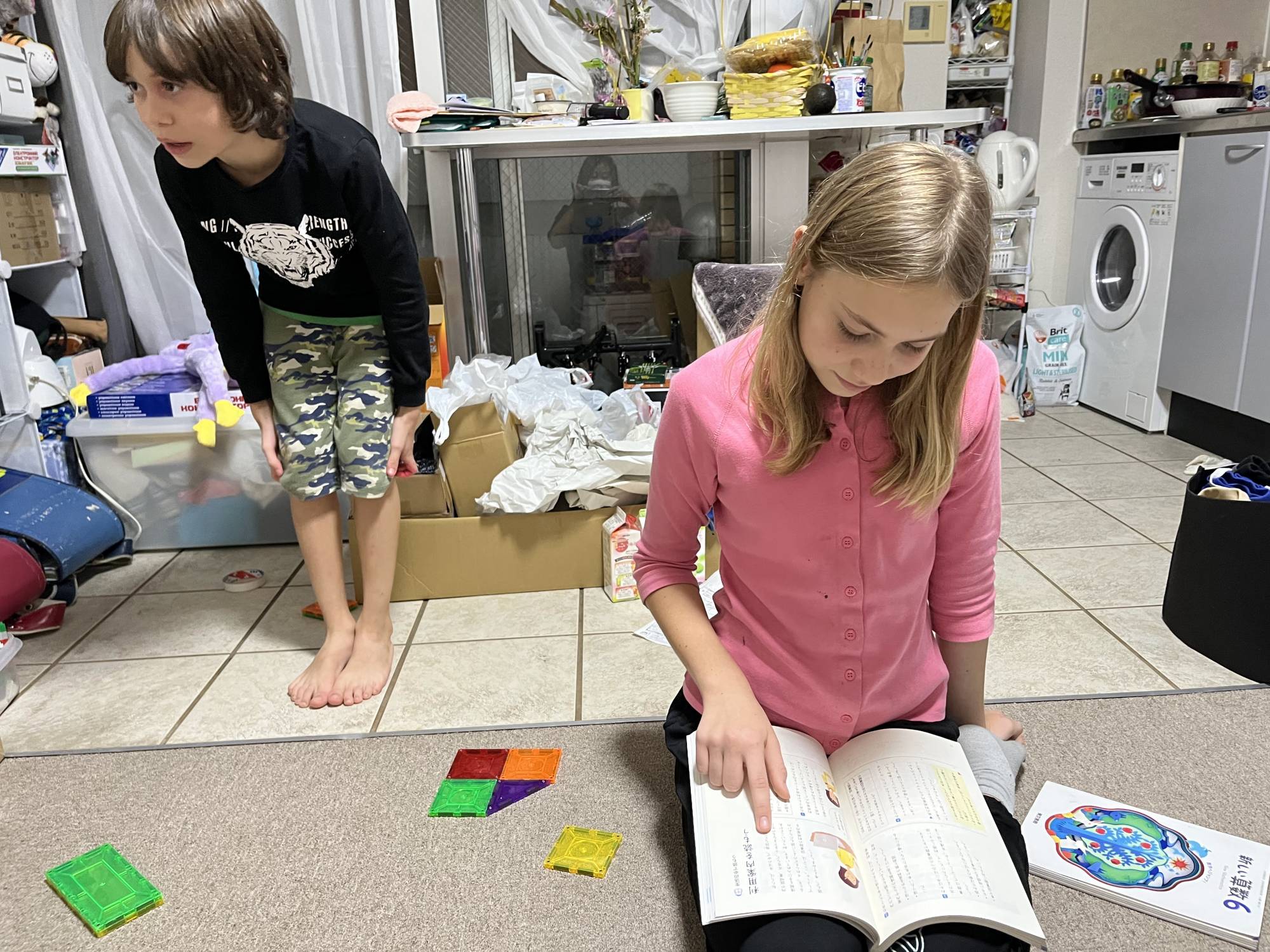 Olivia's mother, Olha, is also unsure what to do about her children's education. In Ukraine, there is a key test that students need to take to go on to the next grade early next year, Olha said. But she's not sure if they need to take the test online from Japan.
At the same time, Olivia will be entering junior high school next April if she continues with her education in Japan.
"I don't know how long we will stay in Japan … because you don't know when this war will stop," Olha said. "And I don't know (if) I must push them to study Japanese more or not."
Adding to the frustration is the fact that they can only stay at the current apartment complex until next March, which means the children may need to go to a new school if they move outside of the school district.
But for now, the main thing is that the children are safe in Japan.
"Because I know that you could study at any age," Olha said.
Source: https://www.japantimes.co.jp/news/2022/11/01/national/ukraine-children-japanese-schools-adaptation/