UK: Schools to cut staff in budget squeeze, union says
UK/November 09, 2022/By Branwen Jeffreys & Hazel Shearing/Source: https://www.bbc.com/
Many schools in England are considering cutting teachers or teaching hours to save money, says the head teachers' union, NAHT.
Of the 11,000 respondents to NAHT's snapshot survey, 66% said they will have to make teaching assistants redundant or cut their hours. Half say they could do the same for teachers.
Energy costs and teacher pay rises are putting pressure on school budgets.
The government said it had increased school funding by £4bn this year.
Ahead of the government's Autumn Statement next week, which is expected to bring widespread public funding cuts, the NAHT asked heads and other senior school staff about managing their budgets.
The 11,000 responses from NAHT members, who mostly teach in primary rather than secondary schools, give a good overview of the decisions they are making this school year.
More than half of those who replied (54%) said they would not be able to balance their budgets unless they make spending cuts.
Many also warned they would have to reduce support for children, such as counselling for mental health issues, or extra help for individual pupils.
Claire Evans, head teacher at Eaton Valley Primary in West Bromwich, said her school is having to shoulder "unsustainable" price increases in an attempt to avoid passing rising costs on to parents.
Most of a school's budget goes on pay, so the 5% pay increase that most teachers in England received in September has had a big knock-on impact on finances.
For Eaton Valley, it has added £90,000 to the annual bill for staff costs, which it is expected to find from within its existing budget.
Other costs are spiralling too. A bus for a reception class trip to a farm has jumped from £870 to £1,070, and basic supplies like exercise books have gone up from 54p each to 65p.
The school's caterers say they will charge £18,000 more for their services from April, as well as putting up costs per meal which takes it from £2.30 to £2.87.
"When you add that to the rise in milk, to the rise in paper, to the rise in costs in school trips, to the pay rise for all teachers and teaching assistants, it becomes unsustainable in the future," Mrs Evans told the BBC.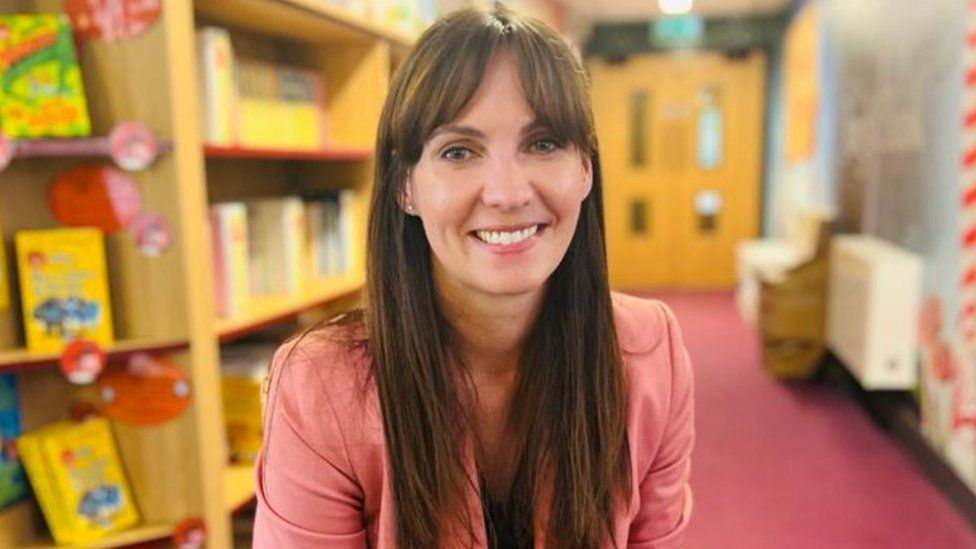 A fixed energy deal puts Eaton Valley in a better place than many other schools, so it is not planning to make any teachers redundant.
But it has decided not to replace teaching assistants who have left, in a bid to save money. It is cutting spending on classroom materials for children by £45,000 this year.
Secondary schools are also facing rising costs.
Dean Jones, the principal of Firth Park Academy, in Sheffield, told News BBC his school had to save "an awful lot of money".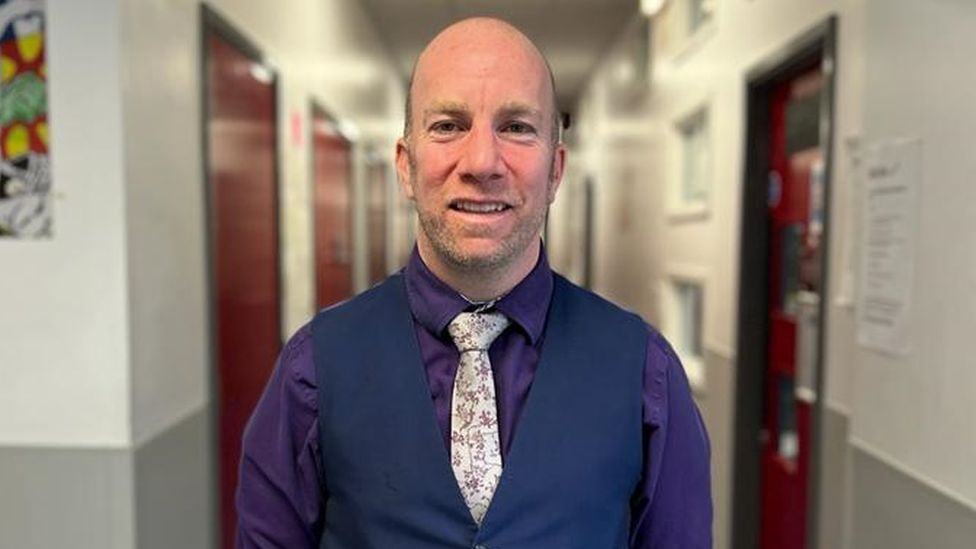 "Every possible sinew is being strained to find efficiency savings," he said.
"So less paper and more online learning, for example, and more of our leadership staff teaching lessons in order to not have to bring in external supply teachers."
Being part of an academy trust had allowed for more investment in things such as solar power and energy-efficient lighting, to help with energy costs, as well as technology for teaching online, Mr Jones added.
Independent economists at the Institute for Fiscal Studies (IFS) say after almost a decade of falling spending per pupil from 2010 to 2019, school budgets have started to rise in cash terms, but costs are increasing faster.
IFS research fellow Luke Sibieta said spending per pupil in 2024 was expected to be lower than in 2010.
"That's basically without precedent," he said .
"The next couple of years are going to be tougher for schools than we expected even a year ago.
"There will be some schools that feel the pressure more than others."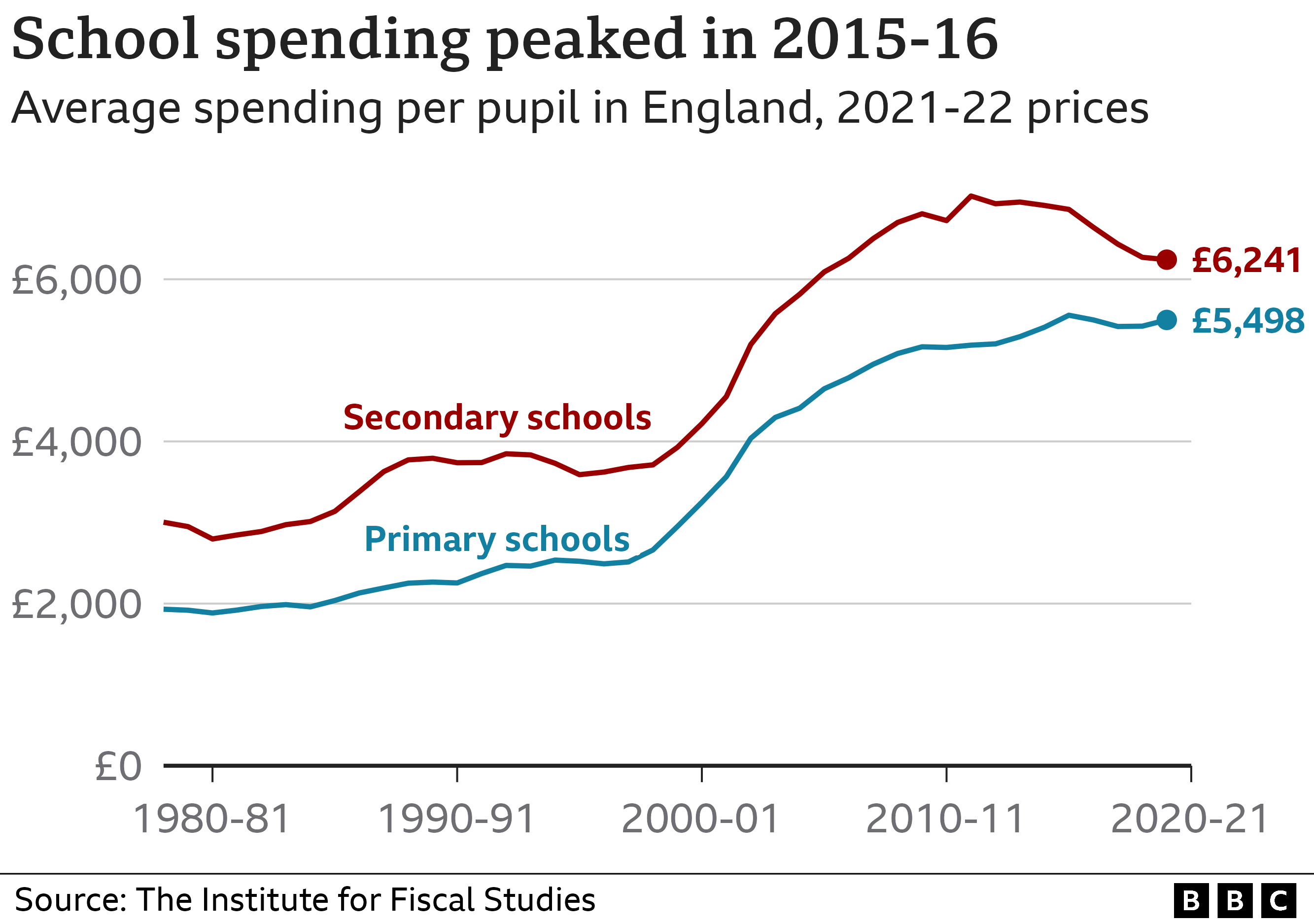 Paul Whiteman, NAHT general secretary, said schools had "made all the easy savings already".
"The only things left to cut are things that will have a real immediate impact on children – and especially those who are already the most disadvantaged and vulnerable," he said, adding that the government must take "urgent action" to boost education spending.
Teachers are considering going on strike over the pay rises, which education unions say are far below inflation, but the government describes as the highest in a generation.
The Department for Education said it understood the challenges caused by high inflation, adding that all schools could benefit from the Energy Bill Relief Scheme and the core funding for schools had risen to £53.8bn this year.
Bridget Phillipson, Labour's shadow education secretary, said the prime minister could help "suffering" schools by ending tax benefits for private schools, and investing that money "in our brilliant state schools".
Labour leader Sir Keir Starmer said in the summer that if he won the next general election he would stop private schools from having the benefit of charitable status, which gives certain advantages such as being able to pay less tax.