University staff in East of England join national strike action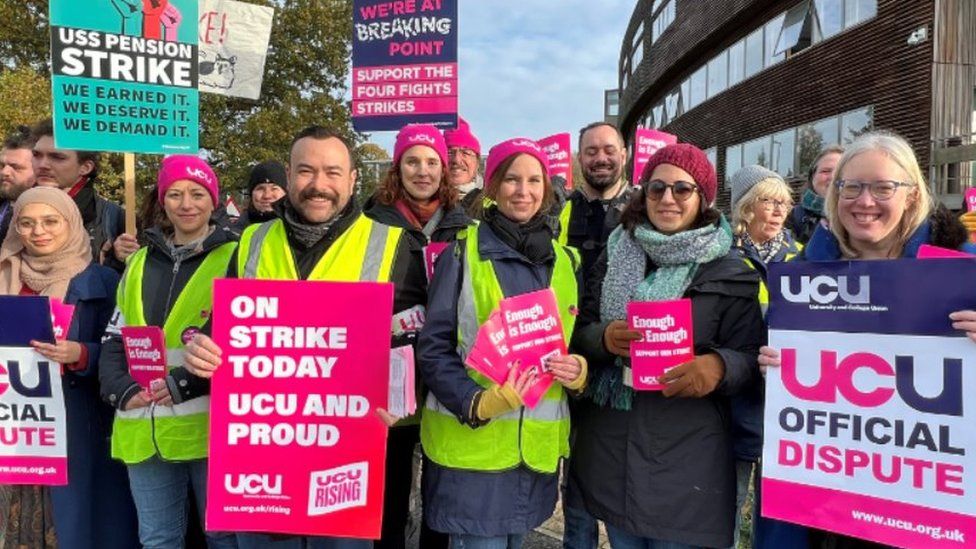 Staff at universities across the East of England have joined colleagues nationally in taking strike action over pay, working conditions and pensions.
The University and College Union (UCU) said more than 70,000 staff at 150 institutions were striking.
Dr Dave Rush, of the University of Essex UCU branch, said action was needed "if we want to deliver the type of education that we want to deliver".
Higher education minister Robert Halfon said it was "hugely disappointing".
Dr Kate McCulloch, a psychology lecturer and branch secretary of UCU at the University of Suffolk, said the issues they were striking over had been "ongoing for many years".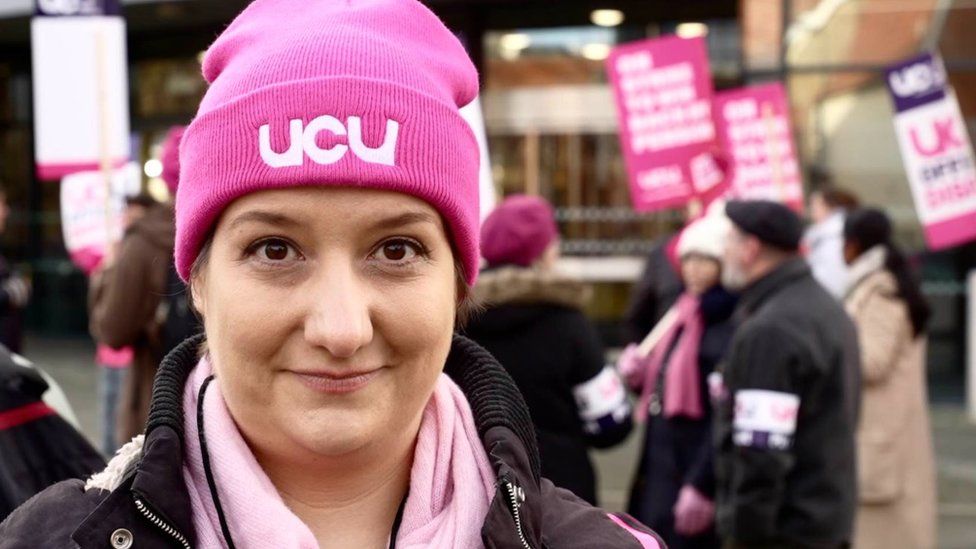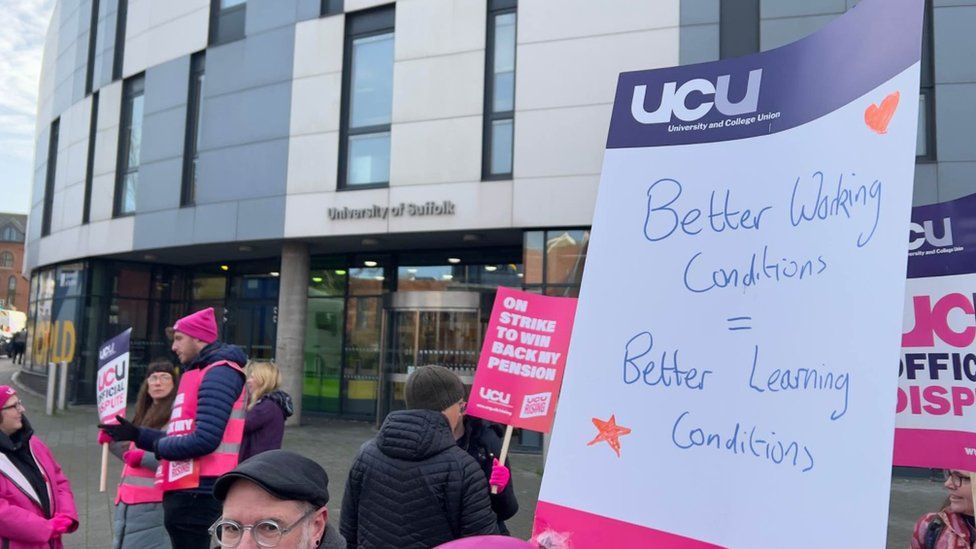 "This is a time when many people are coming forward and standing up for their rights to fair pay," she said.
"It's worth it to be able to afford to live – it's a very big concern for us that we won't be able to survive when we're old."
She added: "We've had a real-term pay cut of 25% and we've only been offered a 3% pay rise, so it's not a lot to live on at the moment."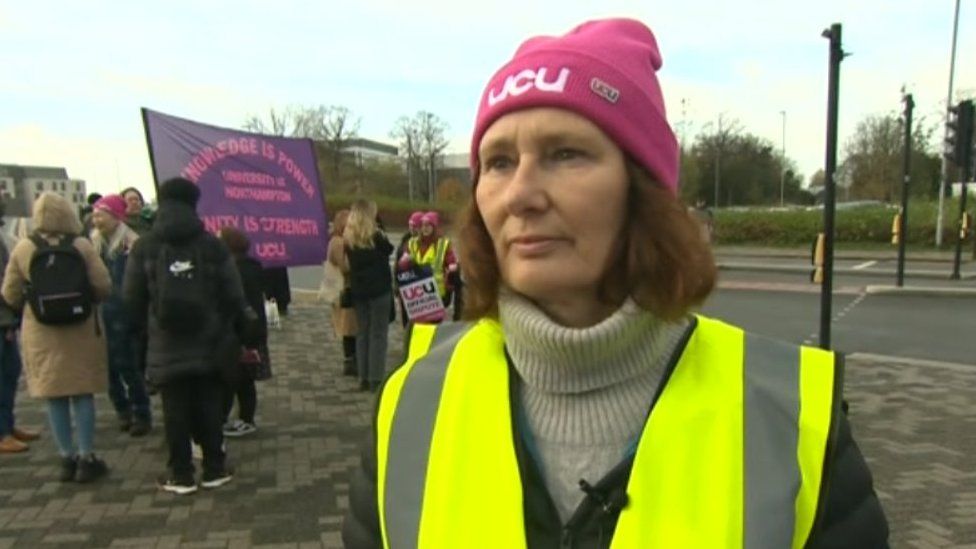 Dr Sonya Andermahr, co-chair of UCU at the University of Northampton, said: "We've had a situation over the last few years where workloads have become absolutely unbearable – staff are under huge pressure."
She said people were taking on more work and the administration load was "crushing", adding it was "unsustainable and really, enough is enough".
"Across the sector we're coming together… to say something's got to change," she said.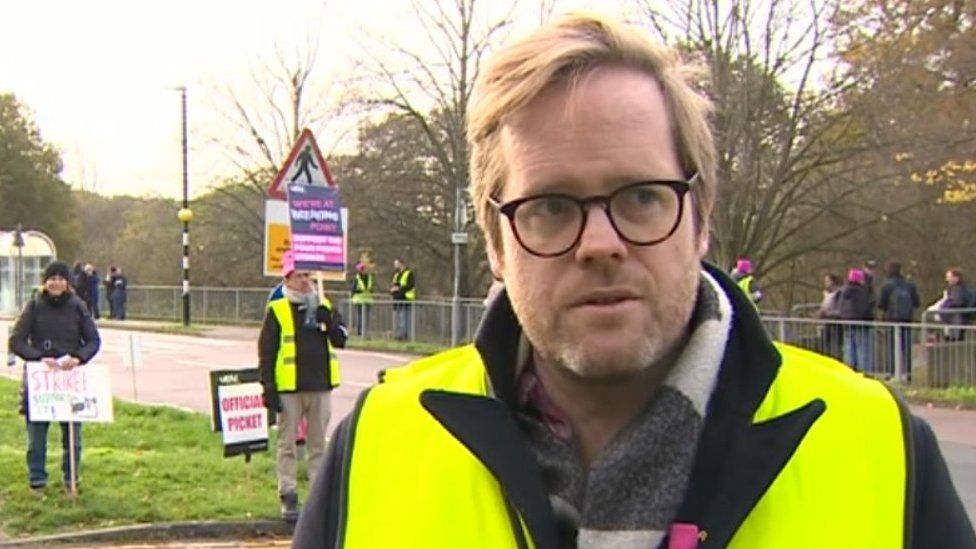 Dr Rush, who is co-vice president of the University of Essex UCU, said: "We have this baked-in situation in the sector with pay, inequality, workloads, casualisation and massive cuts to our pension scheme, so I don't see what other choice we have than to go on strike.
"It's not just about us. It's also about students, because our working conditions are students' learning conditions and we can't do our jobs properly under these conditions.
"So if we want to deliver the type of education that we want to deliver, then we need to take this action."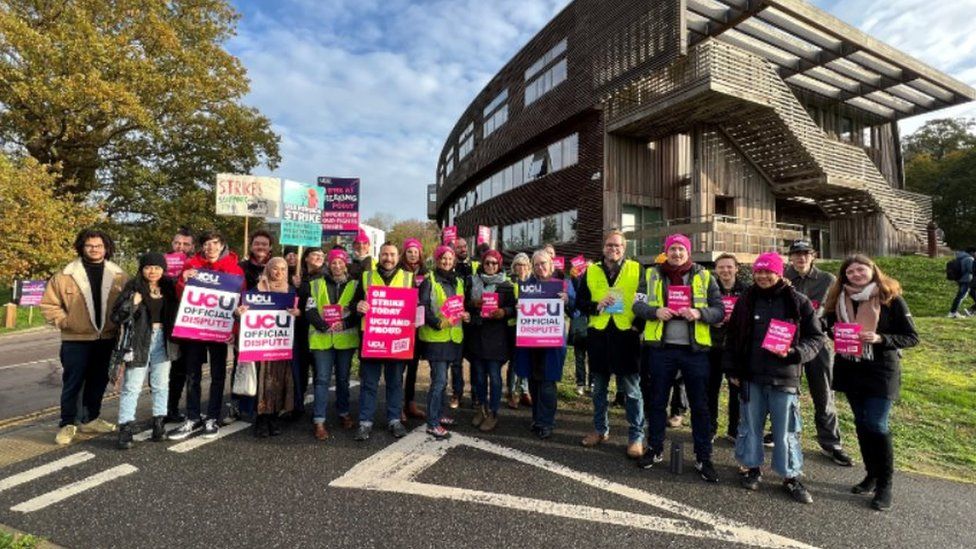 The union Unite said hundreds of its members working in positions such as cleaners, janitors, estates staff and technicians would also be striking at 10 universities in the UK.
A spokesman for the University of Essex said it was doing "everything we can" to make sure the industrial action affected students "as little as possible".
He said while the university would remain open, "there may be some disruption to teaching and other education services".
"We are committed to using all of the money deducted from pay during the strike to support students and student learning outcomes. We also have agreed to reimburse the costs for any students who may incur unnecessary travel and/or caring costs if teaching events are cancelled," he said.
A spokesperson for the University of Suffolk said the disruption to students' learning was "regrettable".
"We hope staff will consider the impact industrial action has on our students and the university will do all it can to ensure students continue to thrive and progress on their courses.
"The dispute is a national one and we urge the negotiating bodies who represent our sector on pay and pensions and UCU to continue to work together to reach agreement and to avoid any further disruption."
University of Northampton's deputy vice chancellor, Prof Shan Wareing, said about half of the university's £150m budget went on staff salaries.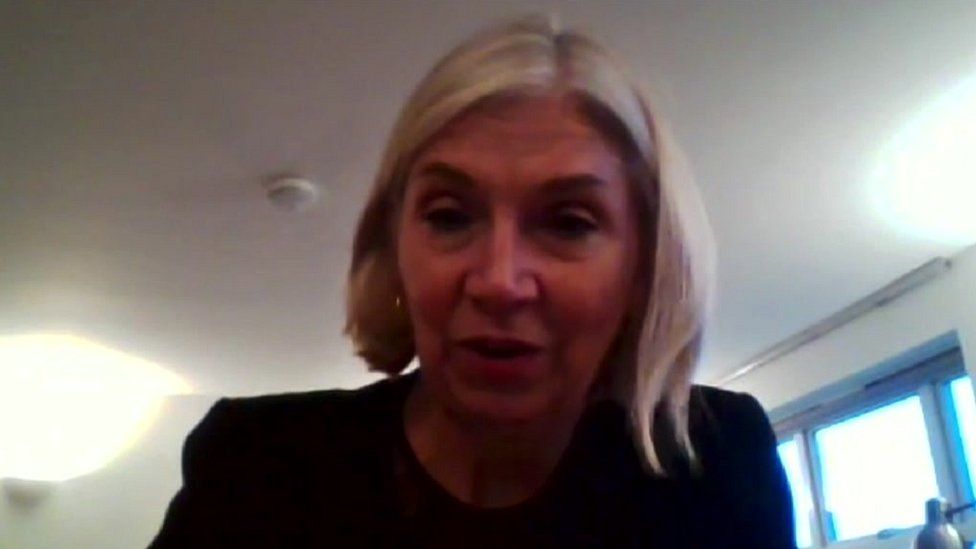 "I understand that staff want to express their protest and they feel that this has been going on for a long time, but obviously we also have an absolute obligation to protect our students – protect their learning and their experience," she said.
"We will do everything we can to keep students informed prior to any disruption or change to their learning and we'll do everything we can to make up for any disruption they experience."
Higher education minister Robert Halfon said it was "hugely disappointing" that students would face further disruption and urged "all sides to work together".