FCPS Academic Tournament to launch on Friday
By Jillian Atelsek jatelsek@newspost.com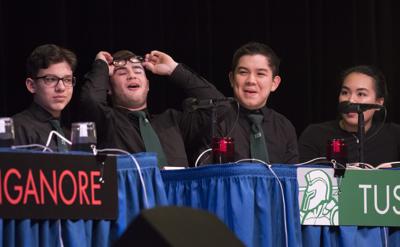 Logan Ojard, a Tuscarora High School team member, reacts to responding with an incorrect answer during the FCPS academic tournament in 2018.
Staff file photo by Graham Cullen
Frederick County Public School students will participate in the annual Academic Tournament beginning on Friday.
Each FCPS high school has an academic team. The 10 schools will compete against each other in weekly matches throughout January and February.
All matches will take place at Frederick High School.
During each match, students will answer a variety of trivia questions as fast as they can. Every match will include a specially themed round, starting with astronomy in the first week.
Other special rounds include World Cup soccer in week four and the Marvel Cinematic Universe in week seven, according to an FCPS news release.
The tournament finals are scheduled for Feb. 24.
This year marks the 42nd year of the tournament. Since the event began, Linganore High School is the winningest team, with nine tournament victories under its belt.
Frederick and Walkersville high schools have each won six tournaments, Gov. Thomas Johnson and Middletown high schools have won five, Urbana and Brunswick have won four ,and Catoctin and Tuscarora have each won once.