Childcare: Full-time nursery for under-twos nearly £15k a year, says report
UK/March 10,2023/By Vanessa Clarke, Navtej Johal & Callum Thomson/Source: https://www.bbc.com/
The average annual cost of a full-time nursery place for a child under two in Great Britain is now £14,836.
A report by the charity, Coram, says average costs have risen by 5.9% in the past year while the availability of places has also dropped.
The BBC has spoken to parents being forced to give up work and to nurseries closing in areas they are needed most.
The government says it has spent £20bn in the past five years to help families with childcare costs.
"I adore my children and I wouldn't change it for the world," says Jo, as she plays Lego on her living room floor in Manchester with two-year-old twins, Ben and Sam.
As a critical care nurse with more than 17 years experience, Jo worked throughout the pandemic until she was 27 weeks pregnant.
Work is "part of who I am", she says. "It is important to feel like I'm doing something worthwhile, and I don't want to give that up."
'It's completely unaffordable'
But Jo has had to cut her hours to one day a week, and says she will have to change career in the long-term, because of how the cost of childcare eats into her earnings.
The twins' nursery is increasing its prices in April. Jo and her husband James, who also works for the NHS, will pay £56 a day for each twin, as well as wraparound care fees for their four-year-old son, Charlie. That's a total of £133 a day – more than 75% of what Jo earns on a long shift.
One in four parents say the cost of their childcare is now more than 75% of their take-home pay, according to a survey of 24,000 parents by the charity, Pregnant then Screwed. One in 10 break even or end up with a loss.
"I would work more if it was feasible, but it's completely unaffordable," Jo says.
BBC analysis shows the cost of a full-time nursery place for a child under two in Great Britain varies greatly. It costs an average of £285 a week, the equivalent of 44% of the average pay for full-time workers.
Costs are lower in Scotland. But in inner London, despite people earning more, disproportionately higher nursery fees amount to more than half of the average full-time wage.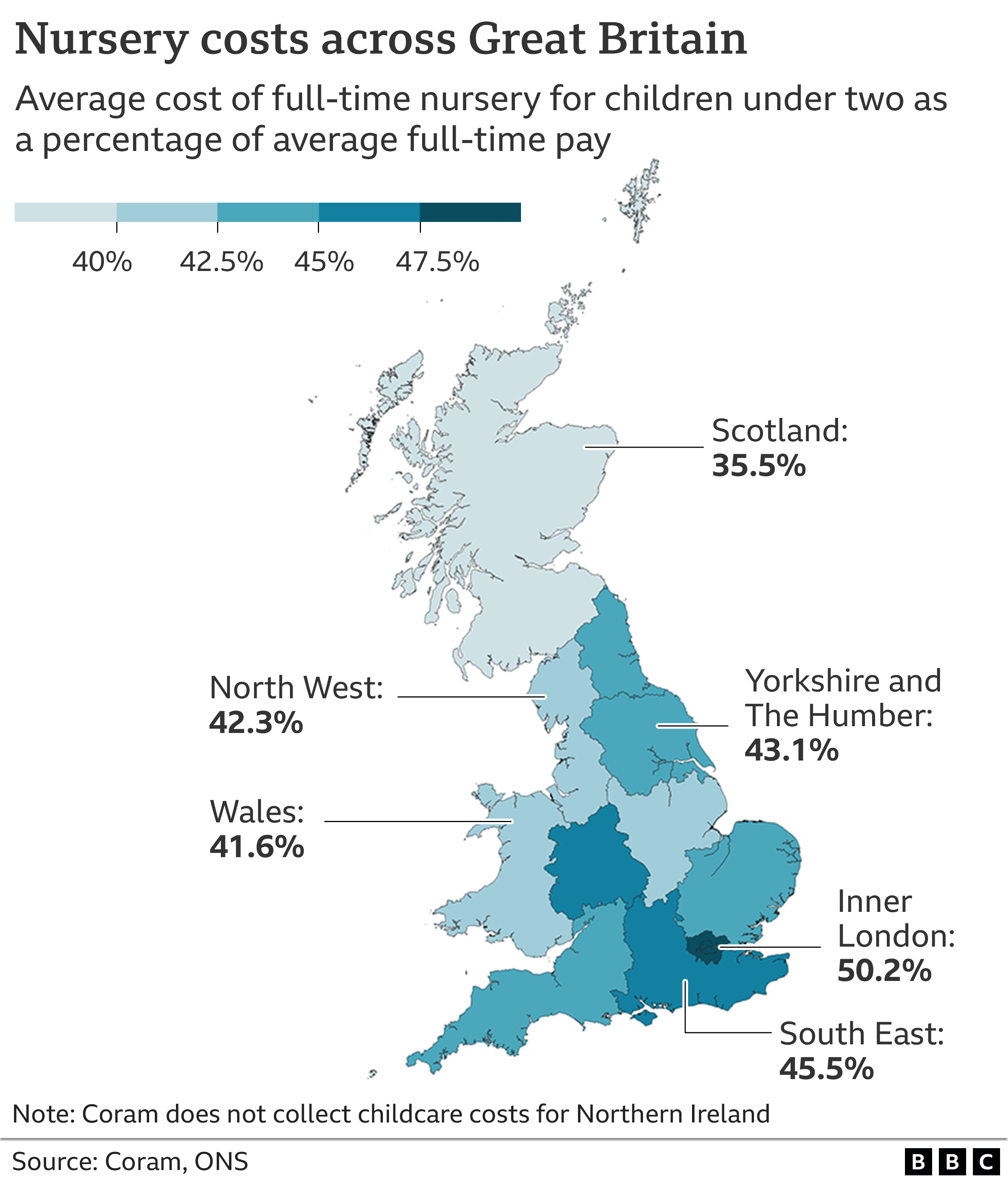 The Coram Childcare Survey 2023 reports similar price rises across the childcare sector – in childminders, nurseries, pre-schools and after-school care. The UK remains one of the most expensive places in the world for childcare.
While the 5.9% rise is below the overall inflation rate, many parents' wages have failed to keep up with the rising cost of living, Coram says.
And only 66% have enough space for three and four-year-olds, who get at least 15 hours a week free, for most of the year. Both figures are down 7% on last year.
At Weston Park Pre-school in Southampton, children are lining up with their plates, excitedly pointing out what they want to eat. This is their leaving party, as the nursery is about to shut its doors for the final time.
"This shouldn't be happening," nursery manager Roxanne Maynard says. "Weston is an area of deprivation – we are not just childcare, we are early education, we are support for families. And we will no longer be here to do that."
The nursery has been a "massive support" for 31-year-old Stacey Jones and for her three-year-old daughter, Jayda.
"Especially when you are on your own as a mum," says Stacey, wiping away tears. "When you go home, you still have the teachers for support."
Roxanne is particularly concerned for families like Stacey's who have not been able to find another nursery space. She says the children will "no longer be able to socialise with their friends" which will make it less likely they will be "school ready".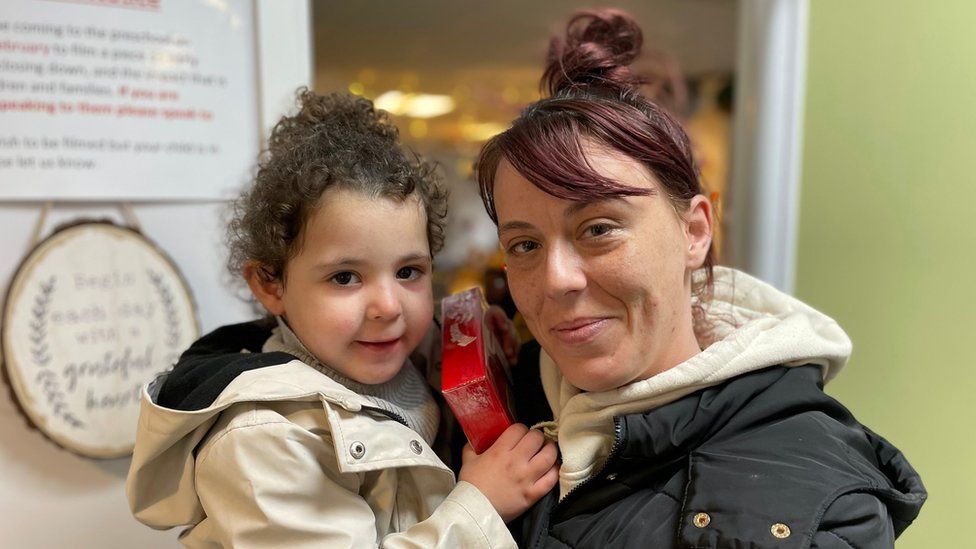 Stacey has called pre-schools up to eight miles away, but everywhere is "packed" so there is no alternative nursery for Jayda until she starts school in six months.
The number of nursery closures between April and December 2022 increased by 87% compared with the same period last year, a survey by the National Day Nurseries Association shows. Nearly a third of the closures took place in the most deprived areas of the UK.
The YMCA, which owns 89 nurseries, including Weston Park Pre-school, says it is having to make "difficult decisions".
The charity says it does not get enough money from the government to cover the free childcare it has to offer, and with rising fuel bills and an increase in the national living wage due in April, its nurseries are being "forced into extinction".
At the same time there is a squeeze on other parts of the sector. More than 10,000 childminders have also closed in the past five years, according to Ofsted. Overall, there are about 26,000 fewer early years places in England than there were at the end of 2018.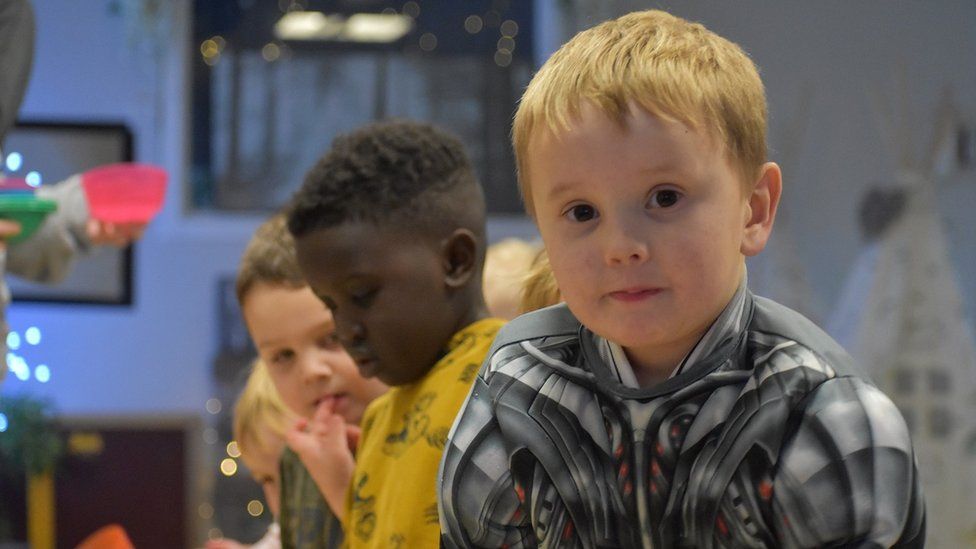 "A lot of the parents live locally. They don't drive, they can't access provision out of the area," Roxanne says, as she closes the door for the last time. "We should not be leaving children without provision. The impact that will have will be devastating."
A parliamentary inquiry looking into why childcare is so expensive will report findings and recommendations in the autumn.
Among the solutions being discussed are a review of the funding rate for free hours to match what it costs nurseries, relief from business rates, and more help for working parents of children aged under two.
The Department for Education says the number of childcare places available to families in England has remained broadly stable since 2015, and "standards remain high". A spokesperson says it has spent more than £20bn over the past five years to support families with the cost of childcare, in recognition of the financial pressures families and providers are facing.
Many families can also access tax-free childcare, although figures from the Treasury show there has been a £2.4bn underspend since that scheme began in 2017.
Alex Hall-Chen, from the Institute of Directors, told BBC Radio 4 Today's programme businesses were really concerned.
The cost of childcare was "making labour shortages worse because it is limiting businesses access to the skills they need on what is already a tight labour market", she said.
Conservative MP for Stroud Siobhan Baillie said the Treasury was looking "carefully" at the "really powerful" workforce issue.
"We want to see more parental choice, lower costs, a really healthy childcare sector and simpler schemes," she said. But it would be "entirely unrealistic, given the country's finances" and the complexity of the schemes, to expect that to be announced next week.
"The government is spending £5bn or £6bn pound a year, which is taxpayers' money… so there has been investment – but I think there needs to be more investment and it needs to be smarter," Ms Baillie added.
Meanwhile, in Manchester, it is time to collect Charlie from pre-school and Jo is putting her twins in the pushchair.
"I don't want to sound like I'm complaining," she says as she straps them in. "I'm aware of how lucky I am and I'm also fully prepared to put my career on hold while they are small."
But she says education is not just down to parents. "They are eventually going to be the people that are running our country. Educating them properly is in everybody's interest."