UK: Teachers' strikes: What are their demands?
UK/March 29, 2023/Source: https://www.bbc.com/
Schools in England could face more strikes as the UK's largest education union urges teacher members to reject a new pay offer from the government.
The Department for Education held days of intensive talks with unions, aimed at resolving the dispute over teachers' pay, conditions and workload.
All four unions in the dispute are consulting their members to ask what they think about the offer. The National Education Union (NEU) has urged members to reject it and the National Association of Head Teachers (NAHT) has said it is "inadequate".
No further industrial action is currently planned in Wales or Northern Ireland.
The dispute has been resolved in Scotland.
What are teachers' pay demands and what's on offer?
Unions want above-inflation increases, plus extra money to ensure any pay rises do not come from schools' existing budgets.
Most state school teachers in England had a 5% rise in 2022 and had been offered a 3% rise for the next school year, 2023-24.
The NEU says the new pay offer will give teachers an average increase of 4.5% for 2023-24, but experienced teachers – who make up most of the workforce – will get 4.3%. It says this is a real-terms pay cut.
The union also says the offer is not being completely funded by government, which could mean schools having to make cuts elsewhere.
The Department for Education called the offer a "good deal for teachers" which also commits to reducing their workload by five hours a week.
Education Secretary Gillian Keegan says the government has committed an extra £2bn to schools in England, taking "real-terms spending on schools to its highest level in history".
Teachers' salaries in England fell by an average of 11% between 2010 and 2022, after taking inflation into account, the Institute for Fiscal Studies says. Unions claim pay has fallen by as much as 23% in that time.
The NEU will announce whether its members reject or accept the offer at its conference, on 3 April.
If they turn the deal down, the next two days of strike action in England will be 27 April and 2 May.
The NAHT in Wales has rejected the offer. The union is calling for talks to resume and says funding arrangements remain a major concern for school leaders.
Since 1 February, NAHT members have been taking action short of strikes – which includes refusing to attend evening meetings, only responding to calls and emails from 09:00-15:00, and not taking part in staff appraisals.
The Educational Institute of Scotland and the Scottish Secondary Teachers' Association have accepted a 7% rise for 2022-23, backdated to April. They have also accepted a 5% rise in April 2023, and a 2% one in January 2024.
The starting salary for teachers in England is due to rise to £30,000 a year by September 2023.
Classroom teachers were paid an average of £38,982 in the 2021-22 school year in England, £39,009 in Wales and £40,026 in Scotland. Northern Ireland did not provide a figure.
The average head teacher salary in England for the same period was £74,095, and £57,117 for other senior leaders.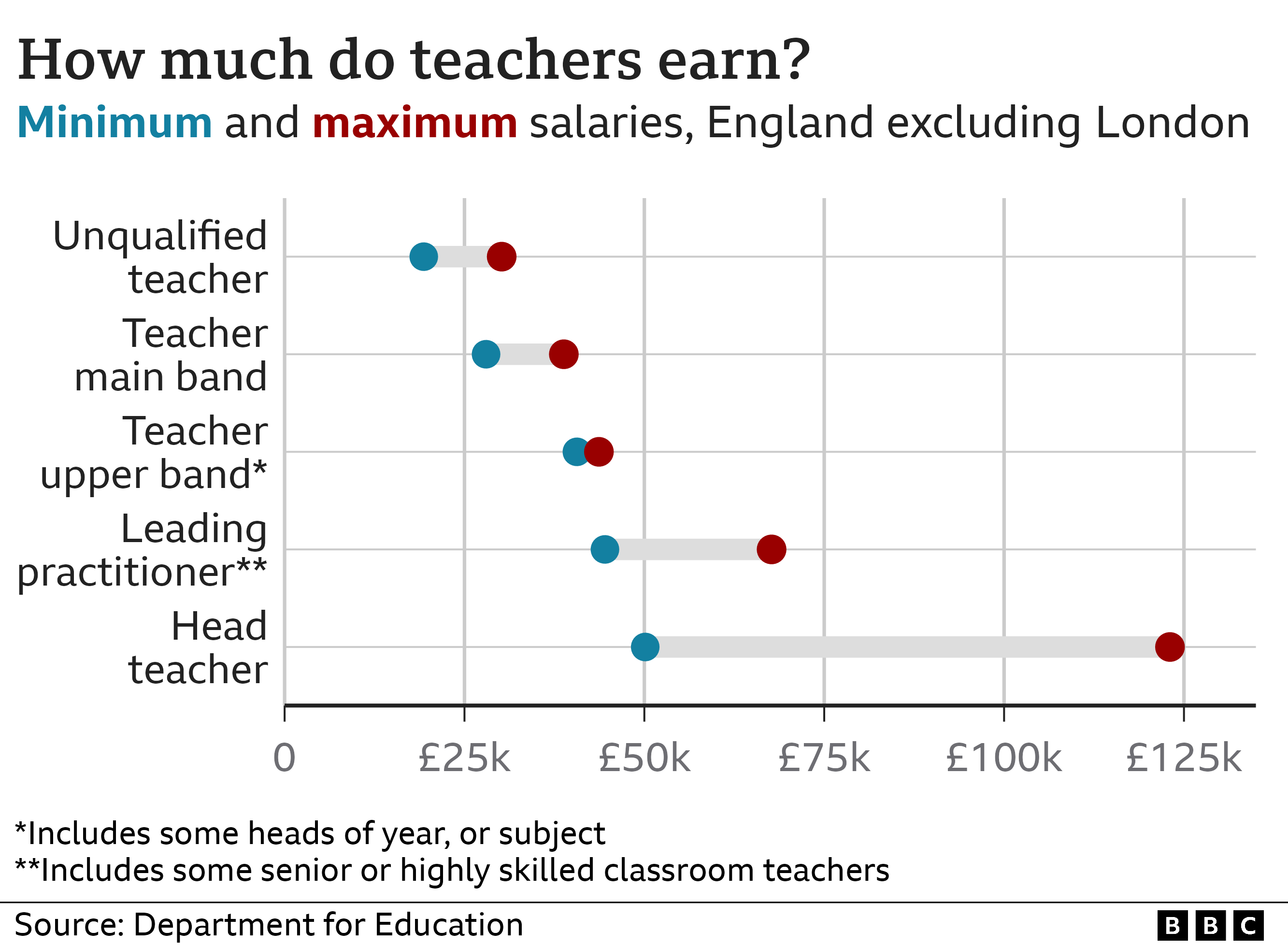 Experts advise ministers about teacher pay, based on factors such as vacancy rates and subject shortages.
As with all public spending, money allocated in England is awarded proportionately to Scotland, Wales and Northern Ireland.
Employers also contribute 23.68% to teacher pensions. Nurses, by comparison, receive 14.38%.
When did teachers go on strike?
Teachers from the NEU in England took part in regional and national strike action across six days in February and March.
Are teachers striking in Wales, Scotland and Northern Ireland?
No further strikes are planned.
About 40% of Wales' 1,500 schools closed in a national NEU walkout on 1 February, and hundreds more only opened to some year groups.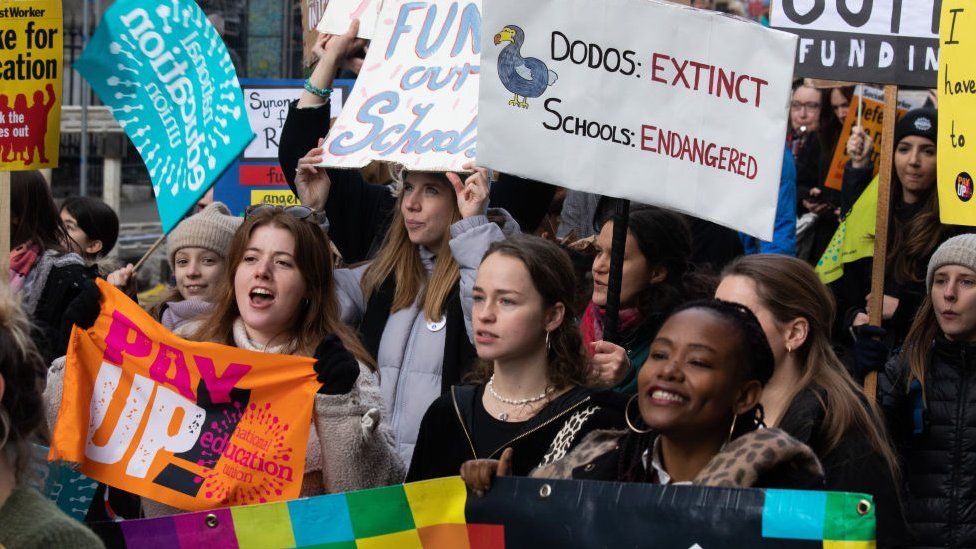 What do parents need to know?
Teachers do not have to say in advance if they are striking, and there are no rules about when parents must be notified about closures.
Head teachers decide whether to shut. Some parents may only be told about a closure on the morning itself, once staff numbers are known.
There are no minimum staffing rules, and heads can use agency staff or volunteers, who do not have to follow the curriculum.
Can parents take time off?
Your employer must not refuse a reasonable request, but you may not be paid. Alternatively you may be able to take holiday or unpaid parental leave.
Check whether wraparound care or pre-schools are running.
Exams and other formal assessments must also be managed, with students notified about any changes.