33% of India's youth aren't in employment, education, or training. Most of them are women
Over 50% of Indian women in 15-29 age group are neither employed nor studying, shows NSSO survey. Most aren't seeking a job either. Expert points to 'burden of care', marriage factor.
Nearly one in three young Indians between the ages of 15 and 29 is not engaged in either education, employment, or training, and the numbers are even worse when it comes to women alone, according to the latest Multiple Indicator Survey (MIS) report of the government's National Sample Survey Office (NSSO), released earlier this month.
The main purpose of the survey, conducted over 2.76 lakh households in 2021, is to collect data on national indicators of the United Nations' Sustainable Development Goals, a set of 17 objectives to address various global issues, including gender inequality, poverty, and education.
India's numbers for young people not in education, employment, or training (NEET), reveal a stark contrast with the global average cited by the UN, which is just 22 per cent.
But what's perhaps most remarkable about India's numbers is the gender gap. Only 15.4 per cent of young men between the ages of 15 and 29 are NEET, compared to 51.7 per cent of young women.
So, are Indian women slacking off? No, they're too busy doing unpaid domestic labour at home.
According to the report, nearly 90 per cent of NEET young women — compared to just 7.3 per cent of NEET men — reported that they were attending to domestic duties when asked about the activities they were engaged in during the seven days preceding the date of the survey.
When asked about the survey's findings, economist and author Lekha Chakraborty, a professor at the National Institute of Public Finance and Policy, said she was "not surprised" by the gender skew in the NEET estimates.
"As we policymakers have observed, it's the burden of the care economy that prevents women from entering the workforce, which is why women tend to be overrepresented in these figures," explained Chakraborty, who specialises in gender and macroeconomics.
Another reason, she added, was that many families in India see marriage as the "economic future" of women rather than employment.
These social and cultural factors are among the reasons India may struggle to leverage its so-called 'demographic dividend', which is said to occur when there is a high working-age population in a country.
The 15-29 age group makes up more than a quarter of the population of India, according to the survey's 2021 projections.
UP has biggest NEET gender gap
The NEET gender gap is even greater in some states. It's highest in Uttar Pradesh, India's most populous state.
According to the survey's projections for the year 2021, Uttar Pradesh has a population of about 23 crore, comprising 12 crore men and 11 crore women. About 30 per cent, or 6.8 crore, of this population is in the 15-29 age group (3.23 crore women, 3.67 crore men).
The MIS report shows that while only 16 per cent (or one in 6) of the state's young men were NEET, about 60 per cent (nearly every two in three) of women in the same age group fell into this category.
After UP comes West Bengal, where 15.3 per cent of men and 58.6 per cent of women are not in employment, education, or training. Gujarat, Punjab, Madhya Pradesh, Assam and Bihar follow.
Northeastern states, meanwhile, have the smallest gender gaps, the data shows.
In Arunachal Pradesh, only 4.2 per cent of young men and 5.8 per cent of women are NEET. The figures are 3.5 per cent and 7.7 per cent in Mizoram and 8.1 per cent and 18.1 percent in Nagaland for men and women respectively.
Why NEET women aren't looking for jobs
Even for youth who are neither employed nor in education or training, aspirations can still run high. But here, too, there seems to be a gender gap.
The survey data shows that considerably more NEET men than women are available for work or seeking job opportunities.
The report shows that 65.3 per cent (every two in three) of the NEET men are available for a job or looking for one. However, this holds true for barely 6 per cent of NEET women.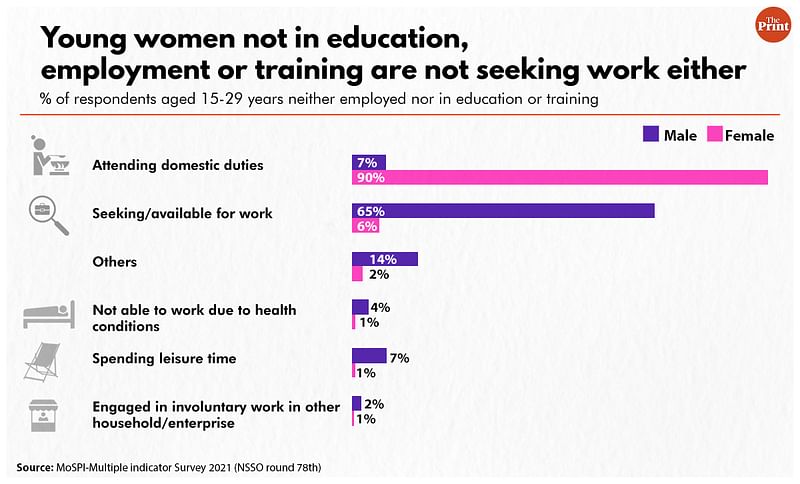 To explain the possible reasons for this, Chakraborty cited a 2013 Massachusetts Institute of Technology (MIT) study conducted by Nobel laureate Abhijit Banerjee and his colleagues, titled 'Marry for What? Caste and Mate Selection in Modern India'.
"In that MIT study, the authors had argued that marriage is an economic decision for women. Money spent on marriage is considered an investment. That's a tool of financial empowerment for women in India. So, parents or social norms perceive that for women, rather than education or employment, in the long run, marrying her off in a better house tends to be the bigger decision," she said.
"Women, when they get married in a house, they abruptly quit their jobs or education since their marriage is considered their economic future. So these kinds of norms and the economic burden of care largely explain the overrepresentation of young women in NEET estimates," Chakraborty added.
According to her, the high prevalence of NEET women is an issue that is unlikely to be solved without social change.
"The perception around women's economic future in society also needs to change. As long as marriage is a preferred economic outcome for the future over employment or education, this issue is going to persist," she said.
Chakraborty added that where the government can help is in reducing the caretaking burdens on women.
"The government needs to offer a comprehensive package for reducing the care burden after assessing where exactly it lies the most. Once women are given more time off these duties, only then can they appear at work," she said.
(Edited by Asavari Singh)
Source: https://theprint.in/india/33-of-indias-youth-arent-in-employment-education-or-training-most-of-them-are-women/1479581/