Adelaide Crows touring regional South Australia with new STEMfooty education program
Australia/May 10, 2023/ABC Eyre Peninsula/ By Henry Milic and Bernadette Clarke/Source: https://www.abc.net.au/
The Adelaide Football Club is touring regional schools across South Australia to implement its STEMfooty program, using football principles to teach students about science and maths.
Key points:
The program incorporates football fundamentals with STEM learning outcomes
AFLW star Niamh Kelly visited Koonibba Aboriginal School in the Eyre Peninsula as part of the program
The next stops on the Adelaide Football Club's tour are Whyalla, Port Augusta and the APY Lands
In partnership with the Crows Foundation, the STEMfooty program runs for 10 weeks within school curriculums and will reach 3,000 students across the state.
Designed to be interactive, the program taps into the students' love of AFL and incorporates the game's fundamentals with learning outcomes.
The first stop of the AFC's tour of the regions was at the Koonibba Aboriginal School in the Eyre Peninsula, where they trialled the program.
The Adelaide Crows Foundation community programs manager and former schoolteacher Katie Bell said it was important for the club to stay connected with regional communities.
"It's been really important post-COVID to get up here and see the kids to show them, yes you can have fun playing footy, but you can also learn," she said.
Ms Bell said it was great to connect learning with something students loved.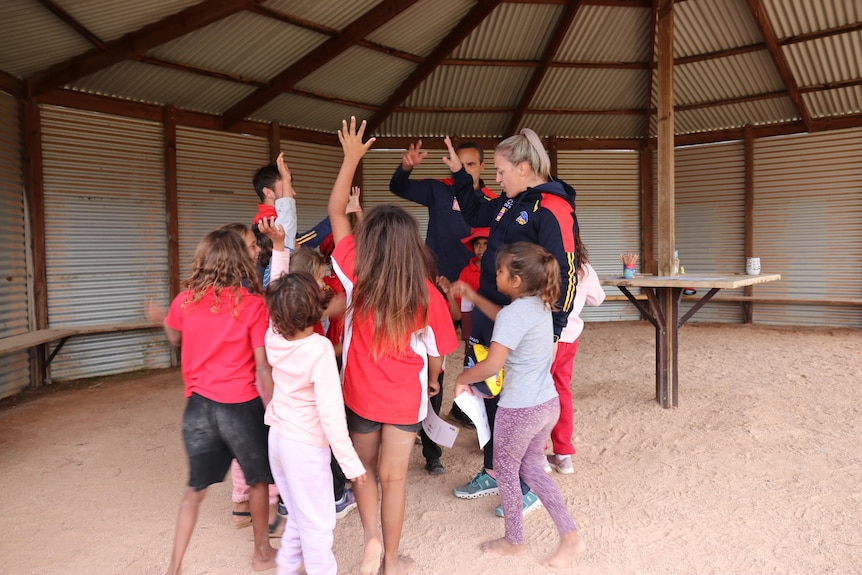 "The kids watch footy on TV, and they see it all the time, so to be able to connect with that learning gives them the spark to think, that's why we can use this maths concept in the real world," she said.
From Ireland to Ceduna
The three-day trip through Ceduna and Koonibba saw AFLW star Niamh Kelly connect with children from the school in and out of the classroom.
Ms Kelly, who hails from Ireland, said she enjoyed getting out to the regions during her off season to provide opportunities for regional kids.
"Pre-season starts in the next two or three weeks, so we definitely won't have this time to get out and visit these regions, so it's been really nice to get up here to Ceduna," she said.
"It's a great opportunity to get out to the kids here that probably don't have the opportunity to come into Adelaide as well, so it's been really nice."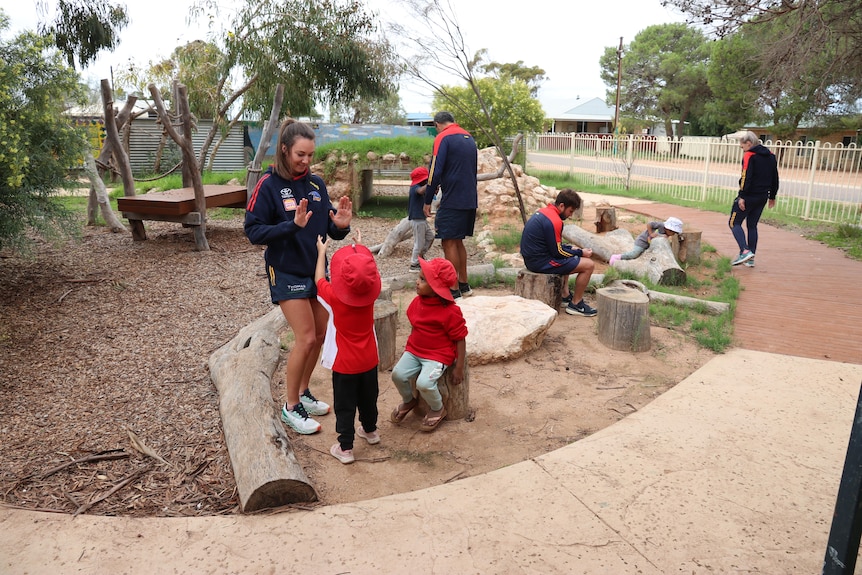 'Innovative ways' to engage
The visit saw local legend and the club's Indigenous programs manager Jeremy Johncock return to his hometown of Koonibba, where he grew up.
Mr Johncock is an old scholar of the Koonibba Aboriginal School and a proud Wirangu man, with a deep connection to the area and its people.
His mother was also a former teacher at the school.
He said it was a great opportunity to engage with the community and connect with his family members through the program.
"If you ask any young Indigenous kid in communities, sport is just a great way to get around each other and be with your friends and your family," Mr Johncock said.
"Sometimes its really hard to get kids engaged with science and maths, so we look at innovative ways to get kids interested and we know for our young people in Indigenous communities sport is a great way to do that.
"An example we use is, if Eddie Betts kicked a goal from the pocket, we would ask what kind of angle it is, 'Is it an acute angle?' and so forth.
"We also talk about distance and the circumference of an oval."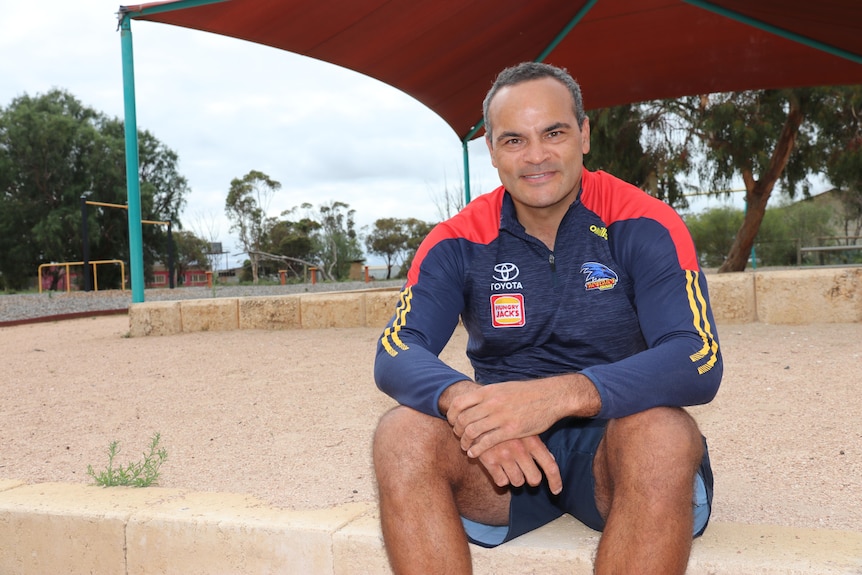 Next up Whyalla, Port Augusta, APY Lands
STEMfooty is yet to be implemented into the Koonibba Aboriginal Schools curriculum but with the success of the pilot program, principal Mark Prince is hopeful he can continue to work with the club.
"If we are able to link the two together so that students develop their academic skills and their academic self-concepts then it will be something we will continue to purse," he said.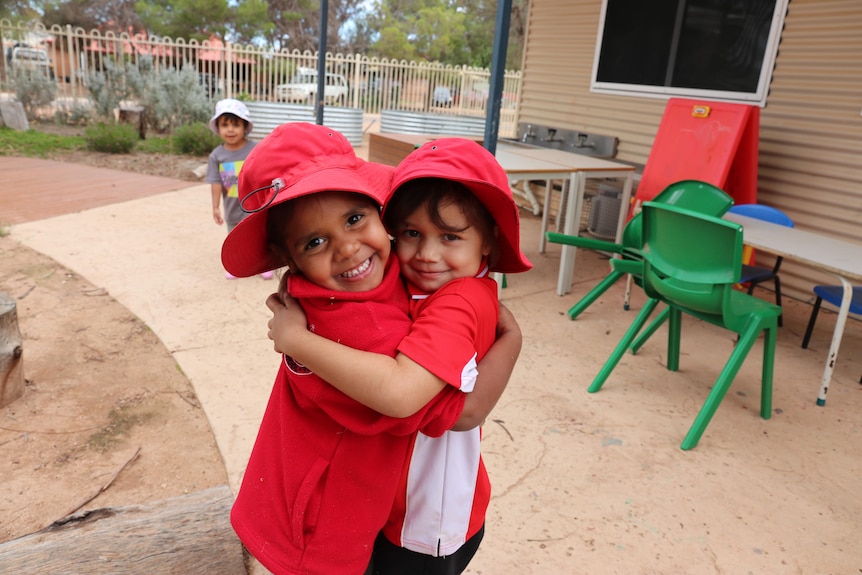 Mr Prince said the students were surprised by the club and engaged positively with the program.
"They enjoyed participating in the kicking, handball and marking drills with their new Crows footies and then they participated in a maths game where they had to match tokens in order to score a goal, developing their tallying skills," he said.
The Adelaide Football Club will travel to Whyalla, Port Augusta and the APY Lands to deliver their STEMfooty program to more regional students.
Source: https://www.abc.net.au/news/2023-05-09/adelaide-crows-tour-regional-sa-stemfooty-educational-program/102318154