'Propping up these schools': Education journalist slams disparity in funding across Australian schools
Australia/June 28, 2023/By: Patrick Staveley/Source: https://www.skynews.com.au/
News Corp's education editor Susie O'Brien has criticised the advantages in funding that Australia's wealthier schools get, stating some are propped up by taxpayers.
The wealthiest schools in Australia have been revealed, highlighting a stark contrast between how much funding some institutions receive and how far some are left behind.
News Corp education editor Susie O'Brien thinks it is "astounding" how much money some schools receive through the government.
"What is actually quite astounding is that Haileybury (Melbourne's richest school), for example, get… about $35,000 a year in funding (per student) – $8,000 of that comes from the federal and state government," she told Sky News Australia's Steve Price on The Kenny Report.
"Federal and state taxpayers are propping up a school, a wealthy school like Haileybury, to the tune of $8,000 per student, and there's about 4,000 students.
"And the same goes for most of those massive schools. (There's) $4,000 at Knox, $7,000 at Sydney Grammar.
"You've got enormous amounts of government money that are propping up these schools and you know what, if these schools needed the money they should get it but these are schools with untold wealth – you know with equestrian centres, and polo fields, and indoor aquatic centres.
"Caulfield Grammar in Melbourne the other year spent $100 million dollars on a wellness and relaxation lifestyle learning centre."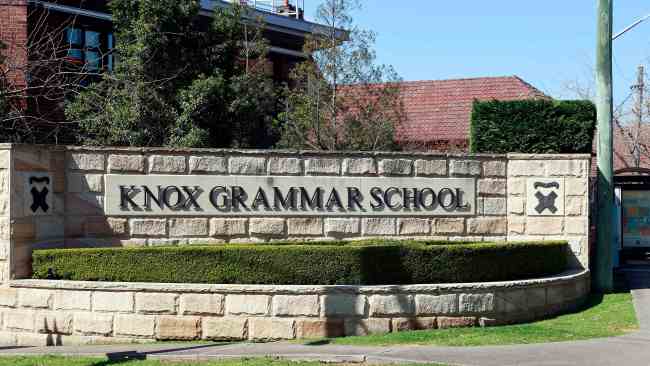 Knox Grammar, Wahroonga is NSW's wealthiest school. Picture: Tim Hunter.
Ms O'Brien said she thinks the wealthier schools are "running out of things to spend this money on" while there's hundreds of state schools that are struggling with a lack of funding.
"We did a story about six months ago about Sunshine College in Melbourne that has got so little money that half their facilities are closed down because the ceiling's falling down. There's mould in the bathrooms, the Bunsen burners don't work," she said.
"They're getting $20,000 per student a year – well under $35,000 at Haileybury or anywhere else."
The education reporter said funding used to be based off postcodes, but if the government follows through on the Gonski reforms by implementing a parental income funding model, the gap between private schools and poorer state schools would be reduced.
"If this is properly implemented by the Labor Government, it will change the whole funding landscape," Ms O'Brien said.
"So there's something called the SRS and it's the school resource allocation. What it's found is that there's a whole heap, like hundreds and hundreds of private schools that are well over-resourced, that parents can afford to pay, that parents are willing to pay and these schools are still being propped up hugely by the taxpayers.
"If the government goes through with these Gonski reforms – we're still talking about ten years down the track – we're going to see a massive shake-up and there will be a whole host of private schools that will be getting less, and state schools that will be getting more.
That's if they go ahead with it."
Source: https://www.skynews.com.au/australia-news/propping-up-these-schools-education-journalist-slams-disparity-in-funding-across-australian-schools/news-story/03a7d548524141091955a6f857cf5c02