An advert for an exam coaching lab in Kota seen on a rickshaw cab in Delhi.

Photograph: Mint/Hindustan Times/Getty Images

Yet a darker side has also emerged, one that has thrown a spotlight on the gruelling culture of intensive exam coaching in Kota and the heavy burdens – academic, familial and social – placed on the students.

So far this year, 27 students studying in the city's coaching schools have killed themselves, the highest number on record. The problem has been deemed so bad that some government ministers have called for the coaching schools to be banned. The matter was also raised in parliament and this month the Rajasthan state government introduced a new set of guidelines in an effort to curb the high suicide rate. Ceiling fans, repeatedly used by students to hang themselves, have been removed from rooms. None of the institutes or their teachers would speak to the Guardian.

Yet while criticism has been directed at the coaching schools, students and psychiatrists in the city say the greatest pressure comes from families at home. Having a doctor or an engineer in the family has long been held in high esteem in India, and many parents see Kota as the route to make this happen.

"I would say most of the mental health problems I see are related to toxic pressure from parents who tell their children, 'You have to win at any cost.' Success is often presented almost as a life or death option for these kids," said Dr Neena Vijayvargiya, a psychiatrist working in Kota.

"With many parents, there's no acceptance, no room for failure, and so students connect their life, their feelings, their emotions, everything to their marks."

In September, a 17-year-old girl from Jharkhand studying for her medical college exam hanged herself in her bedroom. According to police, her diary had been filled with pleas to leave. "We found that the girl often wrote in her notebook, 'After I leave Kota and go back home, my troubles will come to an end. But I know that my mother will feel sad and disappointed if I leave,'" said an officer on the case.

The teenager's father, who asked to remain unnamed to protect his daughter's identity, acknowledged she had repeatedly asked to come home. "But in no situation did my wife want her to drop out of the Kota coaching school and return home," he said. "She told my daughter over the phone that we had decided to spend nearly 1m rupees on her education in Kota."

While big coaching school such as Allen emphasised they had more than 50 psychiatrists and counsellors on campus and a 24-hour student helpline, Vijayvargiya said the stigma and misinformation associated with mental health in India meant that the signs of depression were frequently being dismissed by parents.

The few students who did find their way to her private clinic often did so disguised in headscarves and sunglasses to prevent them being seen. Women are particularly fearful that if they are known to have visited a psychiatrist, it could damage their marriage prospects.

While Kota coaching schools – with fees of 150,000 rupees a year and additional monthly costs of about 30,000 rupees a month for accommodation and food – used to be the preserve of the upper middle classes, those in the lower middle classes and below are increasingly making huge personal sacrifices so their children can attend.

The bigger coaching schools have also expanded their operations to cities across India and have representatives who go into schools to encourage parents to transfer their children to their institutes, to help prepare them for the exams from as young as 11.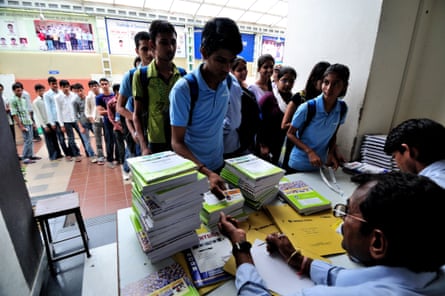 Kedar Korde, a farmer from a poor rural village in Hingoli, Maharashtra, last year sold off his only piece of land and moved his family to Kota, in order to send his two sons, aged 14 and 17, to Allen.
"My sons are my universe, I want to give them the best education possible, and that means Kota," Korde said. "I felt very sad selling off my land because it was the sole source of my family's livelihood but it was a choice I had to make. Now my sons will not have the same life of misery as small farmers like me."
He found a job working as a hostel security guard, and his family of four lives in a single room, as his older son prepares for the medical college exam. Yet Korde's salary is still not enough to cover the costs, and so back home his father, Ramdas, is slowly also selling off his land to contribute to fund the teenagers' education.
"I dropped out of school in seventh grade so I sold off my farmland to fund my grandson's education with no reluctance" said Ramdas Korde, 69. "Frankly, it would be something like a miracle or a revolution in my village for them to come back as doctors or engineers.
Source: https://www.theguardian.com/world/2023/oct/09/dark-side-of-india-exam-coaching-capital-kota-suicides-students