The government's job should be to improve training, he told reporters.
Mr Sunak said he recognised there was «anxiety» about the impact new AI tools could have on the workplace, but said it would enhance productivity over time.
«We should look at AI much more as a co-pilot than something which is necessary going to replace someone's job. AI is a tool that can help almost anybody do their jobs better, faster, quicker.
«My job, the government's job, is to make sure we have a world-class education system,» he added.
«That is my answer in a nutshell, that's why I don't want people to be worried, because we are building a world-class education system.»
Mr Sunak cited his recently-announced plan to introduce a new qualification for all school leavers in England, including some English and maths to 18.
He also suggested efforts to improve technical training, and plans to boost adult education, would ensure that the UK could «reap the benefits of AI economically».
His comments came at a press conference following a two-day summit on artificial intelligence safety attended by 28 countries, including the US and China, alongside tech bosses and academics.
Trade unions, which have complained about not being represented at the event, have called for stronger measures to ensure jobs are protected as AI technology evolves.
At the summit, hosted at Bletchley Park in Buckinghamshire, several leading technology companies agreed to allow governments to safety-test their next generation of AI models before they are deployed.
The voluntary document was signed by 10 countries and the EU, including the UK, US, Singapore and Canada. China was not a signatory.
In a statement, the UK government said it would work with the Alan Turing Institute, a research body, to assess possible risks such as the potential for bias and misinformation.
Mr Sunak said the testing regime would provide some «independent assurance» – adding that the firms developing new models cannot be expected to «make their own homework».
His government has so far declined to announce legislation to regulate AI, arguing that existing regulators are best placed to mitigate the risks whilst the technology evolves.
Mr Sunak told reporters that binding rules would «likely be necessary,» but stressed that the technology was still evolving and it was necessary to ensure it is done in «the right way».
Before the summit, various unions and campaign groups warned the event would prove a «missed opportunity».
In an open letter, they argued the event should have focused more on topics such as the impact of AI on employment law and smaller businesses, as well as policing and identity profiling.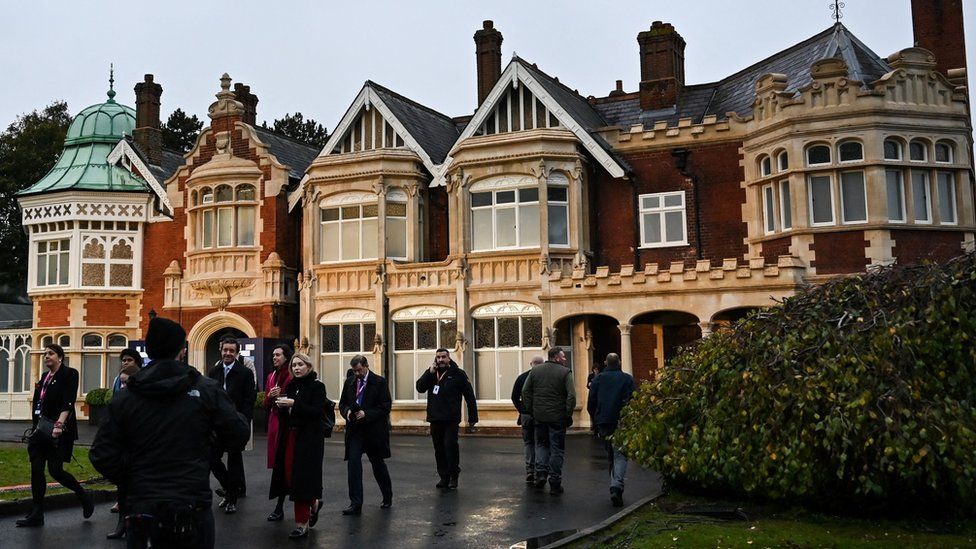 The summit has seen countries sign a declaration pledging more co-operation on research, to ensure the technology develops in a way that is «human-centric, trustworthy and responsible».
Mr Sunak said he hoped the event would become the first in a series, with Korea and France also expressing a willingness to host further summits next year.
Some had criticised the inclusion of China at the event at a time of tense relations with West, despite the country being a key player in AI technology.
Mr Sunak defended the decision to invite the country, adding it «wasn't an easy decision» but that it was the «right long-term decision».
«Any serious conversation about AI safety has to engage the leading AI nations,» he added.
On Wednesday, US Vice-President Kamala Harris announced the creation of the US AI Safety Institute, which the White House said would work alongside its UK counterpart.
Ms Harris had called for a focus on the «everyday threats» of AI, such as discrimination and disinformation, as well as «existential» fears.
Earlier in the week, US President Joe Biden also signed an executive order, seeking to ensure «America leads the way in seizing the promise and managing the risks of artificial intelligence».
Some commentators had suggested the US's moves threatened to overshadow the UK's summit.
However, Mr Sunak welcomed the US executive order, calling it «a deep and comprehensive demonstration of the potential of AI».