South Australian teachers have made their frustrations known during a strike in 
Adelaide's CBD
 that closed more than 170 schools today.
Educators marched from education department offices down King William Street to the steps of state parliament demanding better pay and working conditions after the union rejected a third offer from the government earlier in the week.
«We're here for the long haul … we're going to fight until we get want we deserve,» one teacher told 9News.
Year 12 exams still went ahead as planned.
«No issues have been reported to the SACE board around the conduct of those exams which is very good news,» Education Minister Blair Boyer said.
The Australian Education Union (AEU) declined a 4 per cent increase in salaries on Monday as it would see educators «worse off» in the long term, the union said.
In a vote by union members last week, 83 per cent were in favour of industrial action.
«This offer is essentially the same as, if not worse than the last,» AEU South Australian branch president Andrew Gohl said in a statement.
«Since taking industrial action in September, we have been negotiating with the government and expected today's offer to reflect those discussions.
«Under these conditions, teachers in some schools still won't see any real workload relief for seven years, and by that time, half will have already left the profession.»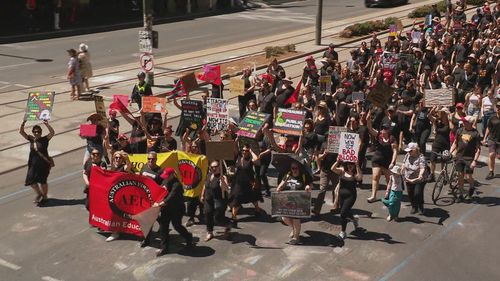 Strikes in September went ahead with 80 per cent of members voting for industrial action.
The strike caught some parents off-guard, with a father telling 9News he didn't believe his son saying there was no school today until they arrived at the school.
«He told me that it's a day off today and I said 'I don't believe you, get up, breakfast is ready, let's go',» one dad told 9News.
«But here we are and he was right.»
Negotiations with the government will re-commence next week.
«We need the union to come back to us with something more realistic and I'm hoping we'll see that,» Boyer said.
The strike started at 11.30am today, November 9.
Union members will gather outside the Department of Education offices and march to Parliament House.
The protest on Thursday will be the second in two months, following the September industrial action, which impacted 167 public schools and preschools.
How many schools will be impacted?
There were 171 schools impacted across the state.
The full list of schools and preschools impacted can be found 
here
.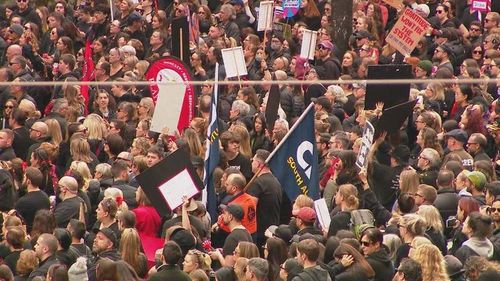 Why are teachers striking?
Union members are striking after rejecting an offer from the state government, which would increase teachers' salaries by 5 per cent.
The AEU is asking for an 8.6 per cent pay increase in the first year of their new enterprise agreement, and then a 5.5 per cent increase in the next two years.
The union claims teaching staff is dwindling due to poor pay conditions.
«We were astounded that the government neither made a significant increase in salary nor brought back the implementation for the period of one hour of non-instruction time to address workload,» Gohl said while addressing the media on Tuesday.
«What the government put on the table yesterday was a worsening of financial outcomes in the third offer, and contentment to see teachers working excessive hours for the next three years.»
Gohl also claimed that 1800 students have not had a consistent teacher in the last year.
The union is also asking for better in-class support, legislative protections from parental abuse, and permanency for principals and preschool teachers.
The unions have been advocating for better pay since July 2023.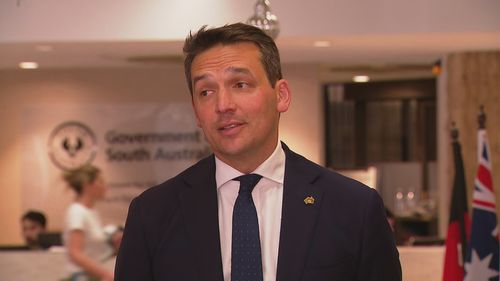 What has the government said?
Boyer said he was disappointed that the union did not call off the strike after making an offer for a 5 per cent increase in the first year, a 3 per cent increase in the second year and a 2.5 per cent increase in the third year of the enterprise agreement.
«I definitely wasn't expecting the strike action to go ahead I was honestly shocked to hear that,» Boyer said on Tuesday.
«This is definitely an improved offer … I expected once we communicated that offer to them yesterday that the strike would be called off, unfortunately, that's not the case.
«They put a figure out of 8.6 per cent salary increase which … we cannot do, we moved on our offer three times now, the union's position today is the same as it was in July, they need to come to the party as well, we are bending over backwards here.»
The minister said an extra hour of paid non-teaching time would cost the government $70 million extra per year.
Boyer also declined the union's claim that their offer would leave educators worse off.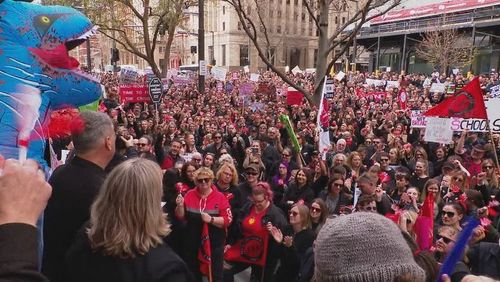 Will final exams be impacted?
SACE exams for physics and accounting will go ahead on Thursday despite schools closing, Boyer confirmed.